Ep.514 – Wallpaper @ El Rey – Los Angeles, CA – 01/20/12
I had seen Wallpaper on the rooftop of The Standard hotel in DTLA a few years back and was blown away by his performance and energy. A good deal of time had passed since the last time I had seen them, but I def didn't forget about Wallpaper and have constantly sung their praises. Needless to say, I was really excited about this show.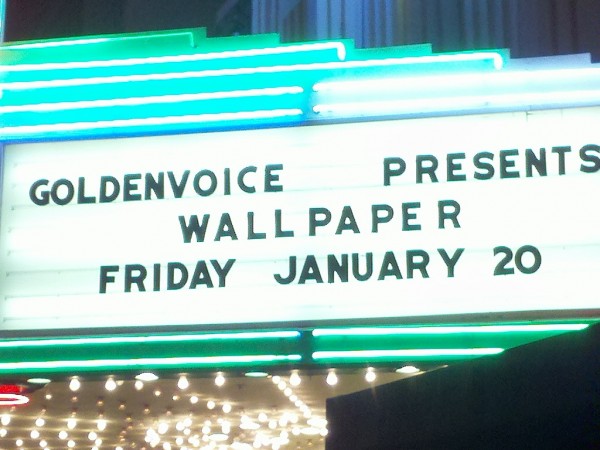 The show had a few openers I had never heard of before, Los Rakas and Youngblood Hawke. I missed Los Rakas, but heard great things about their performance. I managed to make it in for the last 20 minutes or so of Youngblood Hawke and have to say I dug their style. The band was a five-piece and had some pretty peppy and dancy tracks. Youngblood Hawke was also really into their set, and you could tell they were having a lot of fun.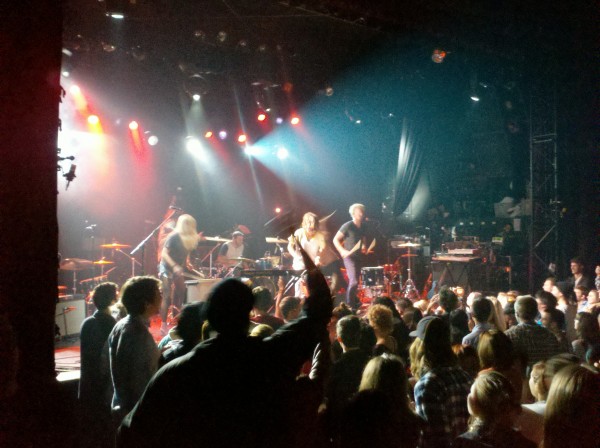 The crowd was also really into the set, singing along to several songs. The one thing I didn't like about Youngblood Hawke was their cover of "Love Lockdown."  I didn't think that the cover really fit with Youngblood Hawke's set and enjoyed their original pieces a lot more. Regardless, I am really excited about Youngblood Hawke and can't wait to see them again.
Up next was Wallpaper, and the crowd was def ready to get down.
Wallpaper @ El Rey Video Concert Review
Wallpaper @ El Rey Concert Review
The last time I saw Wallpaper, the group was just a two-piece. This time around, they stepped it up and came into town as a five-piece that included lead singer and composer Ricky Reed, a female backup singer/rapper and three drummers – one of which doubled as a DJ and all-around "Jack of all trades." These guys were on top of it, and this show was incredible fun, to say the least.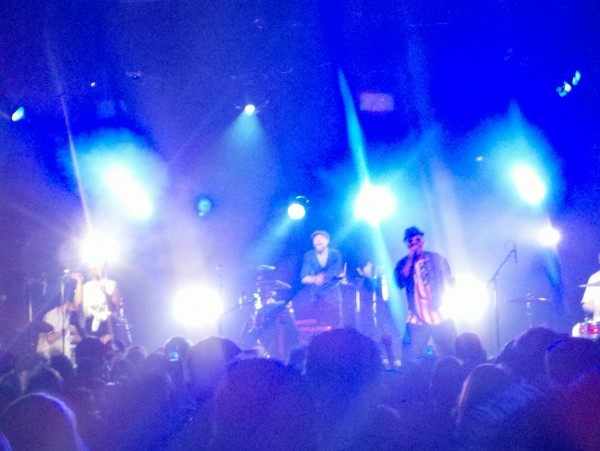 I didn't really know any of Wallpaper's tracks before this show, but found myself getting down to every single one of them. The songs were all very simple good-time type of tracks that featured choruses that were infectious and got stuck in your head. Songs that stood out to me were " T-Rex," "Two Pair Of Shades," "Shotgun" (this song had some crazy heavy drops), and their current single, "#STUPiDFACEDD."
Wallpaper – "Shotgun" (Live @ El Rey)
It was mentioned in the video that this show was very un-LA. I couldn't agree more. El Rey was poppin'! The entire place seemed to be getting their groove on. There was also multiple points in the show where the crowd actually threw their hands in the air and "waved them like they just didn't care." If you live in LA and go to shows on the reg here, you know that doesn't happen often.
To wrap things up, I just have to say,  I love Wallpaper! Their live set really delivers and they aim to please. I wish I knew more about Wallpaper so I could say more, because they are def deserving of praise. I can't wait for Wallpaper to make their way back to LA again and highly recommend checking these fine folks out.
If you were at this show, or have ever seen Wallpaper, make sure to comment on this post and let us know what you think,  because this is You Tell Concerts….and "When You Tell Concerts, It's Cooler" – poppinoff