Ep.510 – Watch The Throne: Jay-Z & Kanye West @ Staples Center – Los Angeles, CA – 12/12/11
From the moment the Watch The Throne Tour was announced, I knew this was one show I couldn't miss. This was my fourth time seeing Jay-Z and my third time seeing Kanye West. Both artists had blown me away in the past, and my expectations of Watch The Throne were incredibly high. This show was sold-out and tickets were tough to come by. After an hour and a half or so, two mystery people were kind enough to hook it up with tix! Big ups to those peeps; they def made this episode happen.

Watch The Throne: Jay-Z & Kanye West @ Staples Center Video Concert Review
Watch The Throne: Jay-Z & Kanye West @ Staples Center
Concert Review
The Staples Center was packed, and the crowd was ready to get down. Jay-Z and Kanye West hit the stage with a boom and busted out their hit single "H.A.M." It sure was something to see these two rap juggernauts together on one stage. Jay-Z and Kanye West have different styles, but the two meshed incredibly well.  Jay-Z and Kanye performed another four tracks ("Who Gon' Stop Me,""Otis," "Welcome to the Jungle," and "Got To Have It") from "Watch The Throne" before Kanye West left the stage and Jay-Z dropped into his tracks,"Where I'm From," and "Jigga What, Jigga Who (Originator '99)." Jay-Z got the crowd hyped, but before you knew it, J was gone and Kanye West was back to perform "Can't Tell Me Nothing,""Flashing Lights," and "Jesus Walks."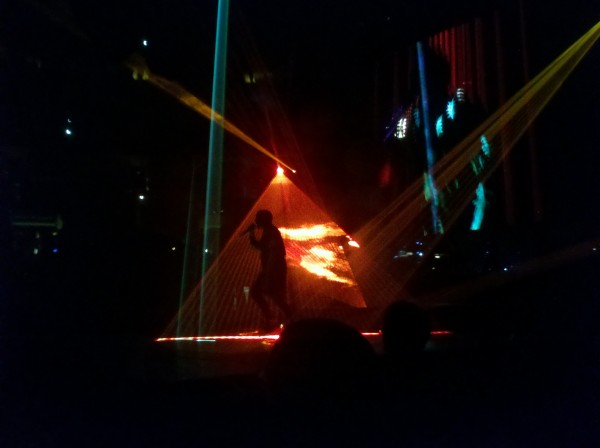 The rest of the night went back and forth between Kanye West and Jay-Z performing hits such as "Run This Town," "Hard Knock Life (The Ghetto Anthem),""Izzo (H.O.V.A.)," and "Empire State of Mind." At this point in the show, things suddenly took a drastic turn visually as Kanye appeared in the middle of the Staples Center on a giant red box to perform "Runaway," "Heartless,"and "Stronger."
When Kanye was done doing his thang, Jay-Z appeared on his own giant light box and dropped "On to the Next One" followed by Kanye West's "Gold Digger."  Things bounced back to Jay-Z again with a real Hip-Hop classic, "99 Problems." From this point on, the show was all about "Watch The Throne," as the two performed "No Church In the Wild" and the hit "Ni#*as In Paris"…NINE TIMES! I have to say when the duo went on a "Ni#*as In Paris" performance rampage, it felt a bit like I was in the twilight zone. Nonetheless the crowd kept getting crazier and crazier after each performance of the song. This was def the first time in my concert going history that an artist dropped the same track nine times in a row and considered it their encore. A lot of people weren't too happy about this, but I thought it was really neat and am glad that I got to experience it.
In closing, Watch The Throne was probably one of my top 5 concerts of 2011. Jay-Z is the best rapper alive, and Kanye West is an incredible producer/performer and the perfect hype man for Jay-Z. One thing I found interesting about this show was that on the tracks that Kanye performed solo and with Jay-Z,  the two just used a backing track;  but when Jay-Z was doing his tracks, he was backed by a band. I have to give it up to Jay-Z for keeping it real and using the band. Even though Kanye killed it, I still have to say the "Throne" belongs to Jay-Z…best rapper alive! I'm so glad that I got to catch the Watch The Throne Tour, and I hope that Jay-Z and Kanye West decide to do a co-headling tour together again.
If you were at this show, or any of the other Watch The Throne shows, make sure to comment on this post and let us know what you think…because this is You Tell Concerts and "When You Tell Concerts, It's Cooler!" – poppinoff
Watch The Throne: Jay-Z & Kanye West @ Staples Center 12/12/11 Setlist
H.A.M.
Who Gon' Stop Me
Otis
Welcome to the Jungle
Gotta Have It
Where I'm From
Jigga What, Jigga Who (Originator '99)
Can't Tell Me Nothing
All Falls Down
Flashing Lights
Jesus Walks
Diamonds from Sierra Leone (Remix)
Public Service Announcement (Interlude)
U Don't Know
Run This Town
Monster
Power/Power Remix
Made in America
New Day
Hard Knock Life (The Ghetto Anthem)
Izzo (H.O.V.A.)
Empire State of Mind
Runaway
Heartless
Stronger
On to the Next One
Dirt Off Your Shoulder
I Just Wanna Love U (Give it to Me)
That's My Bitch
Good Life
Touch the Sky
All of the Lights
Big Pimpin'
Gold Digger
99 Problems
No Church in the Wild
Lift Off (Interlude)
Niggas In Paris
Niggas In Paris
Encore:
Niggas In Paris
Niggas In Paris
Niggas In Paris
Niggas In Paris
Niggas In Paris
Niggas in Paris
Niggas in Paris