Ep. 530 – Weezer @ The Roxy – West Hollywood, CA – 6/6/12
On June 6th, Weezer took the stage at The Roxy as part of a charity benefit for the Early Years Scholarship. The benefit was organized by Rivers Cuomo himself and featured a 50 min set that was full of surprises. Tickets for this intimate show started at $65 and sold out instantly.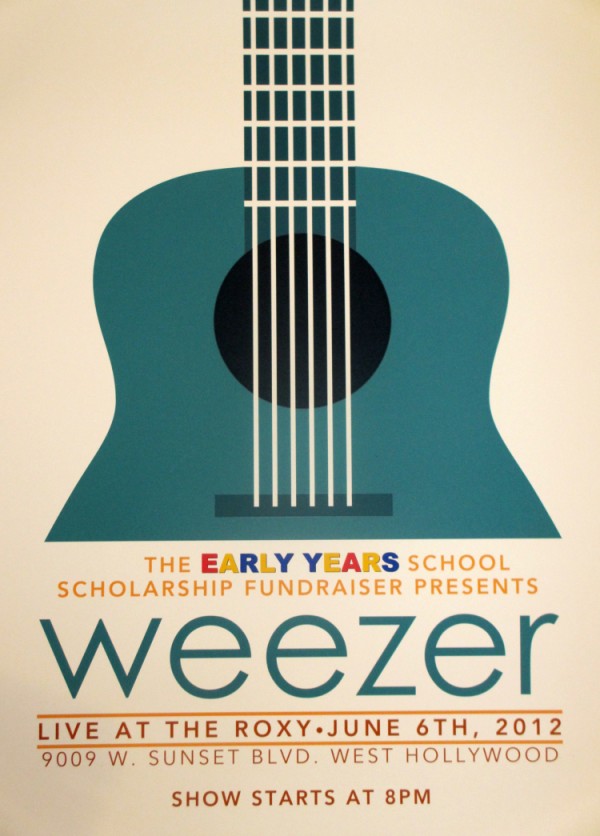 Weezer @ The Roxy Video Concert Review
Weezer @ The Roxy Concert Review
The set, consisting of 13 songs was every Weezer fan's dream come true. When it comes to benefit shows it's often the case that bands will phone it in. This was not the case with Weezer. The band played a  selection that featured some of their greatest hits and a few covers. Weezer's cover of "I Think We're Alone Now" and "Talk Dirty to Me" were especially fun.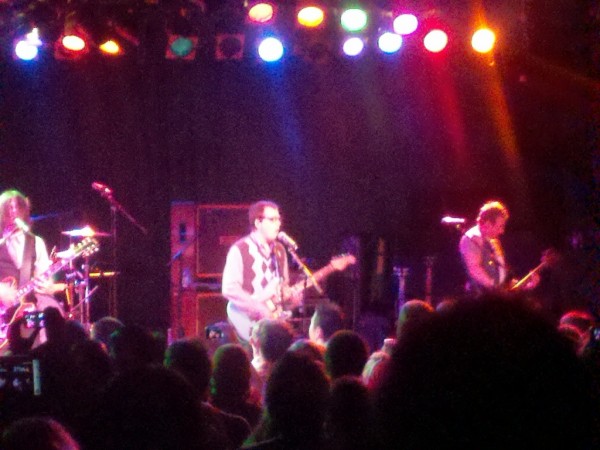 As this show was a benefit for Cuomo's daughter's preschool the show had a interesting vibe to it. Rivers seemed to be having a great time performing for a group of his peers and die-hard Weezer fans. The show was slightly cleaned up for those in attendance with children. For "Hash Pipe", Rivers made a slight change to the lyrics and sung "Half Pint" instead. Another thing that made "Hash Pipe" special was that Brad Wilk of Rage Against The Machine joined the band on drums while Weezer's drummer Patrick Wilson rocked the guitar and Rivers ran around the venue like a mad man.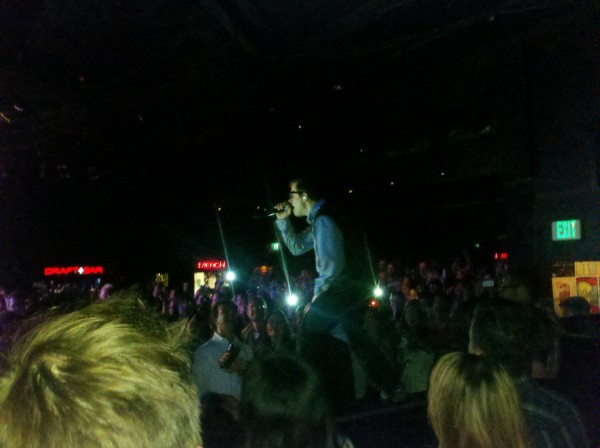 After Weezer had finished their set, Rivers took to the mic to let us know that he would be returning to the stage to perform a new song that he had written in Japanese. He asked that we all stick around as the song was very special to him and would feature his wife on the drums. The tune was called "Homely Girl" and was certainly a catchy jig. Even though this was the debut of the song Rivers and company managed to have the crowd clapping and singing along by the end.
Rivers Cuomo (Weezer) – "Homely Girl"
(Live @ The Roxy) (Debut)

Even though the set only last 50 min I felt that Weezer owned The Roxy and delivered a performance that was far better than I was expecting. Not that I thought they would put on a bad show, just that it was a benefit and more often then not benefits tend to be lack luster. A lot of people seem to talk trash about Weezer these days. Especially when it comes to their newer songs such as "Pork and Beans","Perfect Situation" and "(If You're Wondering If I Want You To) I Want You To". I however still love the band and the music that they are producing. I highly recommend catching Weezer if you can and look forward to seeing them again.
Weezer @ The Roxy Setlist 6/6/12
Undone – The Sweater Song
Troublemaker
My Name Is Jonas
I Think We're Alone Now (Tommy James & The Shondells cover)
Hash Pipe (with Brad Wilk) (sung as "Half Pint")
Perfect Situation
Buddy Holly
(If You're Wondering If I Want You To) I Want You To
Island in the Sun
Pork and Beans
Say It Ain't So
Talk Dirty To Me (Poison cover)
Beverly Hills
Encore
14. Homely Girl (Rivers Cuomo and Company)(Debut)
This show was an all around great experience for me and I have Brian Weildling the director of an upcoming release entitled "Speak" to thank. This film is a documentary about the fear of public speaking and the 2008 Toastmaster's World Championships of Public Speaking. Brian spent two years of his life working on the film and as you can tell from the video below it looks as though it has def paid off.
If you were at this concert, or have ever seen Weezer , make sure to comment on this post and let us know what you think, because this is You Tell Concerts, and "When You Tell Concerts…It's Cooler!" – Poppinoff