Ep.515 – Wilco @ The Wiltern – Los Angeles, CA – 1/25/12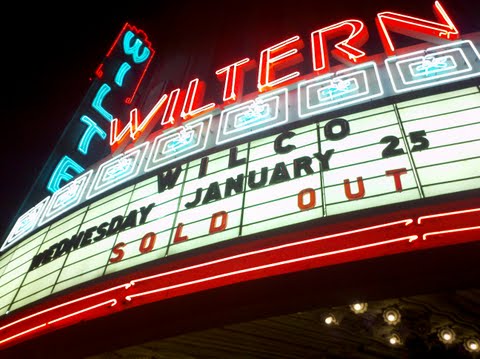 Wilco is one of those bands I have heard every die hard concert goer rave about. I can't count how many times I have heard people tell me that Wilco is one of the best live bands there is out there. For some reason or another the stars had never lined up and this was my first time actually getting to see Wilco. Wilco had sold out three shows here in Los Angeles,one at the Palladium, this show and a performance at the Los Angeles Theater. I hadn't originally intended on going to this show simply due to the fact that I didn't really know all that much about Wilco. But when I got a text from a friend telling me that she had two tix for me I was instantly excited, and began to jet my way to The Wiltern.
Wilco @ The Wiltern Video Concert Review
Wilco @ The Wiltern Concert Review
I arrived at the Wiltern about 20 minutes into Wilco's two-hour set, and the place was already popping off. The Chicago-based rock band was fronted by lead singer, Jeff Tweedy, who was charismatic to say the least. In addition to having a great voice, Tweedy really had a way with the crowd and was constantly cracking jokes and chatting with fans in the audience. One of my favorite moments of the show was when Tweedy chatted with a fan front and center, "Did you bring a real spider with you to our show? That is the strangest song request I have ever seen. Too bad cause we aren't going to play it. I am really glad you didn't want to hear "Muzzle Of Bees."
Every single member of Wilco was a top-notch musician. Lead Guitarist, Nels Cline, also had a tendency to shine throughout the show with some insanely awesome guitar solos; dude seriously knows how to jam.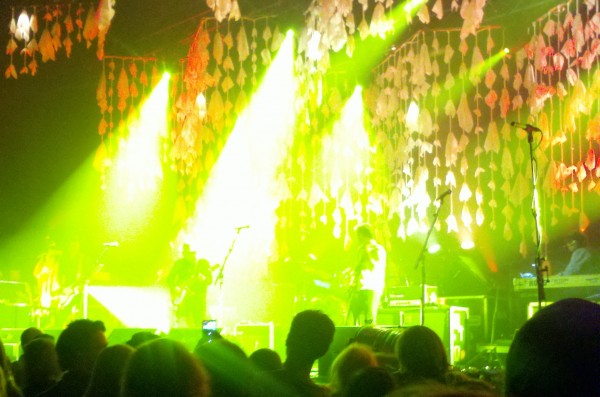 I really dug Wilco's stage design, which was comprised of knotted cloths hanging from poles across the stage. Inside several of the knotted pieces of cloth were lights that would light up at different points during the set. These pieces also served as somewhat of a screen for the show as barley visual images were projected onto them. It was surreal.
I didn't know a single song that Wilco performed during this 24-song set, but I was def captivated throughout. All of Wilco's songs were rocking and had a great Classic Rock vibe going on. One thing that I thought was really cool about the way Wilco performed their songs, was that every single song seemed to end in an epic jamming session that got the crowd going.
In closing, Wilco is a great live band. I really wish this would have not been my first time seeing Wilco, because I have been missing out. I also wish that I had been more versed in Wilco's catalog, so I would have been able to rock out just a little bit more. If you have seen Wilco, before you know whats up. If you haven't seen Wilco before, you should def get on it and catch these guys ASAP.
If you were at this show, or have ever seen Wilco, please comment on this post and let us know what you think…because this is You Tell Concerts, and "When You Tell Concerts, It's Cooler!" – poppinoff
Wilco @ The Wiltern Setlist 1/25/12
One Sunday Morning
Poor Places
Art Of Almost
I Might
I Am Trying to Break Your Heart
One Wing
Rising Red Lung
Impossible Germany
Born Alone
Laminated Cat (Loose Fur cover)
Pot Kettle Black
She's A Jar
Misunderstood
California Stars
Box Full Of Letters
Standing O
A Magazine Called Sunset
Nothing'severgonnastandinmyway(again)
Dawned On Me
Encore:
Whole Love
Heavy Metal Drummer
I'm the Man Who Loves You
Casino Queen
Hoodoo Voodoo