Contest – Win a FREE pair of tix to Cage VS Cons!
CONTEST ENDED
Have you been dying for MMA fighting and Hip-Hop to come together in an arena show to blow your socks off, but now that the show of your dreams has been announced you don't have the money to purchase tickets because you had to post bail for your latest attempt at GTA?  Well YTC is ready to help you in your time of need.  All you have to do is enter this contest for a chance at 4 PAIRS OF TICKETS to the show on May 21st, 2011 at the LA Sport Arena.
HOW TO ENTER:
You MUST follow these 3 steps.
1. Comment on this post about the event.
2. Follow @YouTellConcerts + @CageVSCons OR "Like" YouTellConcerts + Cage VS Cons on Facebook
3. Twitter: Retweet the following "Win tickets to @CageVSCons on May 21st from @YouTellConcerts!  Retweet and click here: http://ow.ly/4SxxU
OR
Facebook: Post the following on your Facebook profile "Check out this contest to win tickets for Cage VS Cons on May 21st at LA Sports Arenea: http://ow.ly/4SxxU"
WINNERS:
Winners will be selected at random from all entries on the following date: May 13th, May 16th, May 19th, and May 20th.  Winners will be contacted through the social network they used to enter.  You may enter as many times as you like for an increased chance to win.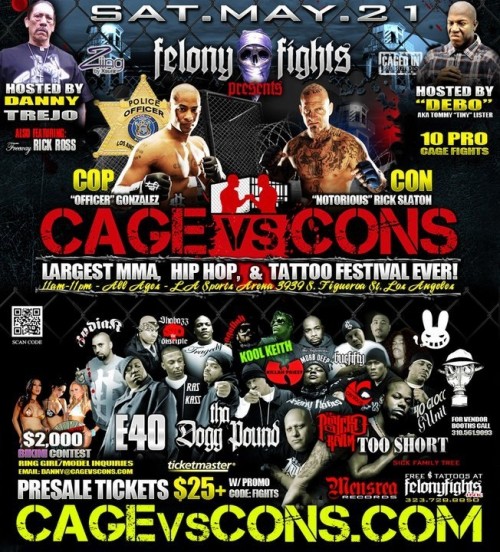 Felony Fights and Zing Pres. Cage VS. Cons: Fights, Music, Tattoos
Los Angeles Sports Arena
Los Angeles, CA
Sat, May 21, 2011 11:00 AM
Ticket prices:
Ringside – $350
Floor – $150
Arena – $100
GA (Lodge) – $50
GA (Concourse) – $30
Below is the seating diagram, via Ticketmaster:

*Seating charts reflect the general layout for the venue at this time. For some events, the layout and specific seat