Craze @ Rain – Las Vegas NV 01/29/10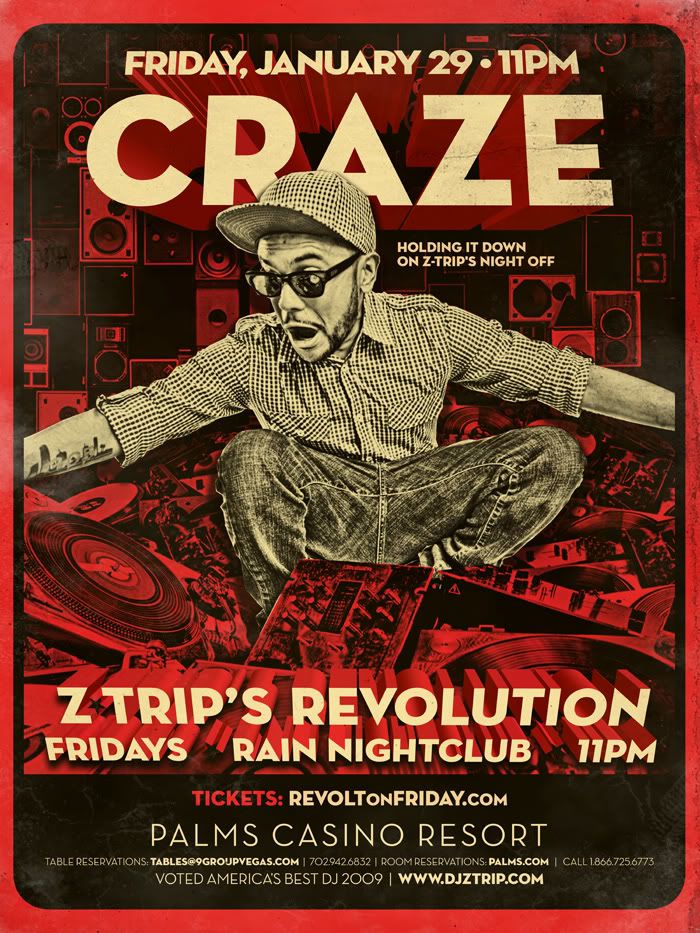 When they say "What happens in Vegas stays in Vegas," they mean it. I had originally intended on making a killer video celebrating the awesomeness of DJ Craze, but, unfortunately, club RAIN at The Palms just wouldn't let that happen. Their policy prohibited me from taking any video on the property. I would love to go on and on about how much RAIN sucks, but I'm going to try and make this post as positive as possible.
I have seen DJ Craze several times, and he always puts on a great set. Prior to the show, Craze sent out the following tweet:
"I'm gonna work my butt off tonite … If these Fu!?ers only wanna hear LMFAO and Guetta, I'm gonna be really pissed" – CRAZEARONI

Photo by: Ashley Corbet
This tweet made me confident of what to expect from Craze that evening.  He managed to mix in a few pop hits, but for the most part was playing some killer retro deep tracks and underground hits (Pon De Flor, Sonic C).  Everyone in the club seemed to be enjoying themselves, but I do have to say they didn't go as crazy as I had expected them to.
The set lasted a good 2 and a half hours, and Craze put his heart into every minute of it.  I think it would be hard to find anyone willing to talk shit about Craze, and he is a "YTC Must Catch DJ."
Craze is always on the road, so make sure to check http://www.myspace.com/crazearoni or http://djcraze.com/ for current tour dates.