Ep.169 – Cut Copy W/ Matt and Kim @ The Music Box – Hollywood, CA – 03/10/09
Lorn and Bryan head to the SOLD OUT Cut Copy show at the Fonda that eventually gets shut down by the fire marshal and talk with fans about the experience.
Things that sucked about this concert.
1. Bryan was unable to get a ticket to this show. ( Big time bummer and #3 didnt make it any easier)
2. We totally missed Matt and Kim ( I ran into Kim at the show and she seemed to be very upset with me for missing their set)
3. The Fire marshal shut the show down do to occupancy issues and would not allow ticket holders into the show ( It didnt seem like the Fonda was bursting at the seems…But then again what do i know? I am not a Fire marshal)
4. Cut Copy wasn't able to perform their entire set (due to #3)
Apparently the last 2 songs in the set flowed together and the Fire Marshal didn't cut the music til after the set was finished.  However, they didn't let Cut Copy return to play the encore.
Cut Copy @ The Music Box Setlist

Things that Rocked about this show.
1. Cut Copy sounded fantastic and had a KILLER light show
2. The place was packed and down to ROCK !!! (lots of jumping and dancing around and a very cool crowd)
So cool in fact that Human Giants Rob Huebel  was in attendance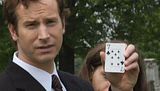 DJ AM was also in the house

3. The balcony had lots of open seats and a fantastic view of the stage.
Were the events of this night caused by the Promoter ? The Venue? or the Fire marshal just wanting to put his foot down on ROCK AND ROLL!!!! ?

(This was the best pic i could find to illustrates the Fire marshal at the Fonda's actions)
Well after all the craziness of this show the Sold Out 03/11/09 Fonda show has been moved to Club Nokia to avoid occupancy issues…