Dim Mak Tuesday w/ Sound Of Stereo
It was the Tuesday after EDC 2010, and Cinespace was packed. Crazy party people crowded the floor and were ready to get down to Sound Of Stereo at a surprise post-EDC performance.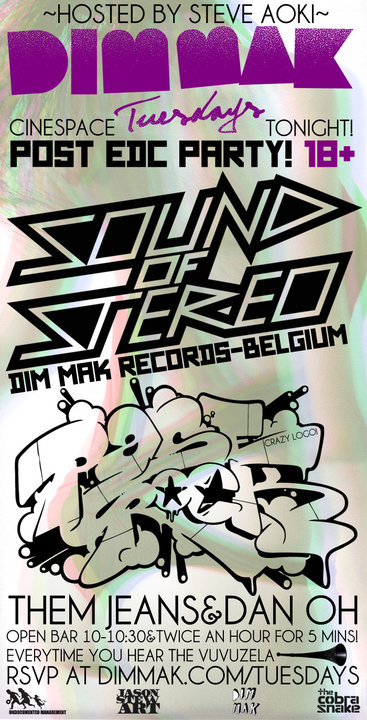 Unfortunately, I missed Sound Of Stereo at EDC which was a big-time bummer since I had heard people ranting and raving about these guys at WMC 2010. As with many up-and-coming DJ crews, they had a very early set time, and I don't usually make it out before the sun goes down. Thankfully, I lucked out, and the good people at Dim Mak got them to play their weekly party at Cinespace, Dim Make Tuesdays.
The crowd was rowdy and ready to get down! Sound Of Stereo was more than happy to assist, and provided an amazing set that was so dope, it inspired me to put this post together in a more timely manner than I usually would.
If I had to describe Sound Of Stereo's set,  I would say that its grimy-electro dance pop with a kick for good measure. (Hope that makes sense to someone other than myself)
If you haven't checked out them out, now is your chance.  Here is a mix the guys did for Pure Fm.
June mix for Pure fm by Sound of Stereo
Check out this new mix via Dim Mak records on RCRDLBL.com
Sound Of Stereo – Flatland North American Tour (Mix)
For more info on Sound of Stereo visit myspace.com/soundofstereomusic
For more pics from the event visit Thecobrasnake.com
Last, but not least,  if you are looking to get crunk on a Tuesday, make sure to check out Dim Make Tuesdays