DJ AM tribute @ Club LIV – WMC 2010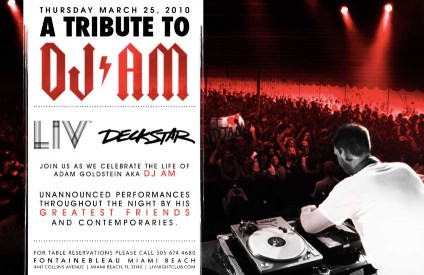 WOW! What a night! In all honesty, this was the party I dreamed of for WMC 2010. It was inspirational and heavy hitting all the way around. The line up was far from official, but rumors included performances by Travis X A-Trak, Steve Aoki and Jazzy Jeff. All of them were in the house and more!
Busy P and Medhi also joined the party and were on the decks when we rolled in to the packed club. A drum set was set up on stage and it was obvious that Travis Barker and A-Trak were to take the stage.
I can't think of a better act to honor DJ AM. I know there has been a lot of people hating on this duo and calling it a Travis AM rip off. I have to disagree with them, as this is something special and new that will truly honor AM at every performance and mention. I had already seen them perform 2 times prior to this night and this performance was equally awesome and diverse. They rearranged the order of their songs and both Travis and A-Trak were on top of their shit. Once again they were joined on stage by Lil Jon for a very special performance of "Outta Your Mind"
After Travis X Atrak left the stage Steve Aoki began his set that was by far the greatest set I have ever seen him do. I cant remember exactly what tracks he started off his set with but the house was bumping and about 3 songs in he was joined on stage by Lil Jon. I am not sure if this was planed or rehearsed, but it was stellar! It lasted a little over 30 min. The highlight of this set would have to have been LIL Jon singing/ MCing Aoik's Remix of Kid Cudis "Pursuit of Happiness". This entire set was def my highlight of WMC 2010.
Kid Cudi – Pursuit of Happiness (Steve Aoki Dance Remix)
After this set we made it over to the Fools Gold Party at Grand Central. Amazing night and tribute to honor DJ AM. Just wish he could have made the party

Notable celebs in the house were DJ Jazzy Jeff who also did a set, Tiesto, Dirt Nasty, and Jersey Shores Mike " The Situation" who for some reason or another has been spending a lot of time in Miami…. cough season 2 cough. -lorn