Review – Dolly Parton @ The Hollywood Bowl – Hollywood, CA – 07/22/11
Wowzers, This is the second review from Susanna Dooley Booney we have gotten this week alone and her recap of Dolly Parton at the Hollywood Bowl is def a doozy. Just the other day Susanna submitted her review of Ben Folds @ The Wiltern and is really on top of her concert reviewing.  Susanna even went the extra mile this time around and created a kick ass video adventure about her Dolly Parton experience.  Enjoy and make sure to comment on this post if you have ever seen Dolly Parton because " When You Tell Concerts Its Cooler" – lorn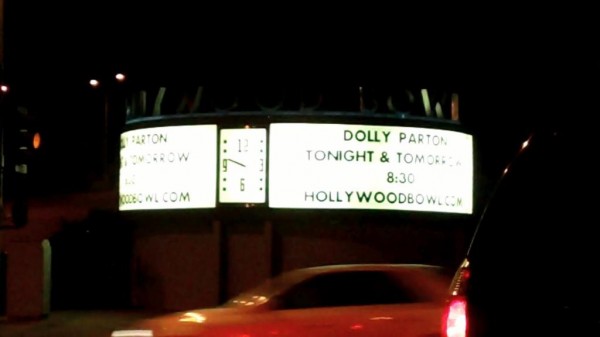 Dolly Parton – Better Day World Tour @
The Hollywood Bowl Concert Review
If the Dooley family decided to hold an election to find The Official Dooley Family Patron Saint, Dolly Parton would have a Christmas light & melted prayer candle covered shrine the size of a Buick Roadmaster in the front yard of my parent's East Austin home. It would be a unanimous. No question. Dolly would win in a landslide. We might even set up a 2nd travel sized shrine in the backyard for our added Dolly worshipping convenience. Dolly and my mother were born'n'raised two years, four months and 23 miles apart in the Smokey Mountains of Tennessee. When my staggeringly brilliant little sister graduated from MIT with a degree in Neuroscience, the only thing she wanted for her graduation present was a trip to Dollywood. [Sidenote: She fully deserved said reward, but settled instead for a trip to Schlitterbahn, the best water park in Texas and coincidentally, all 7 continents.] And, c'mon. What man, Southern, hetero, homo or otherwise, doesn't have a deep unabiding love for Dolly Parton? As such, even my New Mexican-born, Texas-raised father never stood a chance at enjoying a Dolly free life style. I come from a long line of Dolly lovin' Dooleys, no doubt.
Despite all the commonalities and admiration, I am the first person in the family to actually get to behold the Dolly Lama with my own eyes- eyes that will never be washed again. I enjoy going to concerts alone, and I went alone tonight for the mere reason that I didn't want to go with anyone (ahem, Evans Boney) who would complain or speak ill of my beloved. BUT I MISSED THE FIRST HALF!! Ohhh, Dolly, forgive me! As I once told a recruiter in my 3rd & final interview to work as a junior manager at Enterprise Rent-A-Car, "punctuality is my greatest weakness." But, because I don't want to put myself at fault, I think I'll blame Parking.
Even though I like to talk a big game about music and the acts I've seen, I really haven't seen that many concerts here in Los Angeles. This was only my second time to visit the Hollywood Bowl (First time: Stevie Wonder). I've come to accept, and now even expect, that a main act will never step foot onto a stage until a minimum of 2 hours after the start-time printed on the ticket have passed. I forgot that the Hollywood Bowl must stop amplifying music by 11pm for the sake of HB neighborhood residents, and figured I had plenty of time to lollygag. I decided tonight would be the night I would attempt to take the $4 Hollywood Bowl Shuttle from the LA Zoo instead of messing with the repugnant $20 hot mess of a "staggered" parking situation the H Bowl parking officials insist on. Silly. Silly, silly, silly, girl. I was already running behind, and much to my distress, the shuttle STOPS running when the clock strikes "Doors Open at:___" o'clock! So, after an explosion of sailor-embarrassing vocabulary, some burned rubber through Griffith Park and a brief obscenity spout at 3 different poor, abused H Bowl parking attendants in 3 different poor abused H Bowl parking lots, Dolly smiled upon me. I found the best spot of all time directly in front of the grand Hollywood Bowl fountain on Highland -and I didn't have to pay a dime. I ran from the car and, Uhhhh ohhhh… saw that people were already trickling out.
At first, my naïve heart hoped that the trickilers were mostly event staff that had been dismissed early, but I soon started seeing more and more un-uniformed persons as I climbed the hill. Soon, there were so many people pouring out of the exits that I had to basically salmon swim my way up the waterfall of Parton Patrons. And, in the vein of the salmon metaphor that I am currently employing, there were plenty of Bears on my swim to the top. Dolly is a hero to many communities and cultures and The Gays, being exceptionally bright and good-tasted, are no exception. The concert crowd was a happy mix of GLBT allies, senior citizens, hipster teens that had found cheap tickets last minute, and expatriates of the South. My seats were in the bench seats of the venue (read: The Nosebleeds) so I did my best to cowboy boot sprint to the top. I grabbed the first person I saw with a red polo and an ear bud and interrogated him in such a rough way that even Serpico himself would cringe.
"The concert's already OVER????," I whined.
"Oh yeah; show's done."
A good 40% of the audience was still seated so I should have guessed that this man, whose eyes were as red as the polo he was required to wear, was misinformed. But, I yelled anyways.
"WHAT?!? I MISSED DOLLY? IT'S OVER? SHE'S GONE?!?,"
"Uhhhm… yes."
"!!!"
"Oh, wait. It's just intermission. My bad. Your seat is up there."
EUPHORIA! I didn't miss Dolly Parton! I am the champion, my friends. And I'll, keep on fighting, till the end. No time for losers, for I am the champion. (Dundundundun!) Of the world.
Susanna's Dolly Parton Video Adventure
It turns out that sitting in the seat your ticket tells you to is more of an ideology than a practiced philosophy in the top tier of The Bowl, so I grabbed a seat in the middle of an uncrowded bench. I would have tried to snake a seat as close up to the stage as possible before arousing the suspicion of the guards, but I liked my bench neighbors so much that I just stayed up with them. I ended up sitting next to a very fun small group and they were willing to allow me to grill them about what I missed. Matt was kind enough to fill me in on the song selection and I was heart broken to find that I had missed my very favorite Dolly Parton song, "Jolene." Dolly had opened with "Jolene," the tragically pitiful plea of a wife to a mistress to please leave her man alone, and had then moved on to a Led Zeppelin medley including the likes of "Stairway to Heaven" and "Immigrant Song." I always love to hear Dolly's take on Robert Plant's catalog, but I've recently developed an allergy to Zeppelin songs wherein my eyes leak profusely every time I hear those distinctive melodies. I've diagnosed it as just a painful reaction to the memory of a long- Ten Years Gone lost love, and am OK with the fact that I missed that part of Dolly Parton's show. It's really too bad, though. I f'ing love Led Zeppelin. I bet Dolly Parton sang an awesome medley. See, In most break ups, the couple must to divvy up the mutual friends between themselves, yet one partner usually ends up with an unfair share of said former mutual friends. In our case, we tried to divvy up the songs that make us think about each other, but the fiend ended up taking it all. Greedy Bastard. But… I digress. Matt reported that the Soggy Bottom Boys, of Oh Brother Where Art Thou fame, had made an appearance at the top of the show to help Dolly Parton out on their big hit, "Constant Sorrow, " and then, Dolly Parton did the unthinkable. She rapped. Hip Hop is dead. I'm sorry to say such a cruel thing about my hero's new hobby, but it's OK that I missed it. It too may have made my eyes leak.
As all God/Vishnu/Ala fearing Americans know, a big part of Dolly Parton is her appearance. Dolly Parton is infamously self deprecating despite her goddess stature, and Patrice, the Harvard Med educated researching psychologist working in Diabetes sitting one bench in front of me, informed me that Dolly had been making light of her looks all night. Dolly told the audience that one day when she was very young, her momma took her into town and that's where & when she first viewed the town hussy. She said she was enraptured by how pretty she found the woman's gigantic puffy blonde do, and told her horrified mom "That woman is gorgeous." Dolly Parton started styling herself after her new found fashion icon and hasn't looked back since. One of my favorite quotes of anyone from anytime is from Miss Dolly Parton herself: "It's expensive to look this cheap." Patrice & Matt dished on Dolly's first act wardrobe, which was a long red sequined dress that she ended up playing banjo, guitar AND the recorder in. And then… the lights went down. Dolly Parton was about to reveal herself to us for the 2nd Act and I imagined I'd be just as happy as Dolly was on that fateful day when she decided to idolize the tramp.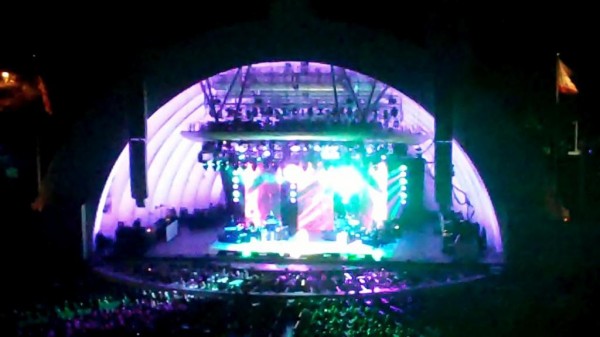 Dolly Parton came strutting out in a short blonde sequined dress with a 12-string guitar strapped over her front. She was beautiful. Immediately, I felt a surge of "Ohhhh, I wish my Mom was here." She gave a big "Hey y'all! Glad you stayed!" and jumped into one of my favorites "White Limousine." Dolly Parton followed that with a surprisingly good cover of the theme song of Hannah Montana, "The Best of Both Worlds" and gleefully admitted to the crowd that she is Mylie Cyrus' Godmother. Who knew? Dolly Parton talked a little bit about how much she admires young girl actors like Mylie and then gave a shout out to Keke Palmer, and I about plotzed.
When I worked at Paramount Pictures with Youtell founder/ president/ all around hep kat Lorn, I was lucky enough to land my first production assistant job on the very talented Keke Palmer's most excellent Nickelodeon show "True Jackson, V.P." It was one of the most fun things I've ever been a part of. Probably about 28% of the fun was due to my greenness to the industry & general giddiness to have escaped the Paramount mailroom. But the majority of the time, about 72%, the funness was due to the daily deluge of Nickelodeon trademarked slime, miniature ponies, ball pits and a good helping of Master P (or "Percy" as we TJVPers know him). Now, to stroke my ego, here is a picture from one of the times I was blessed enough to get to appear on an episode as a waitress with Keke: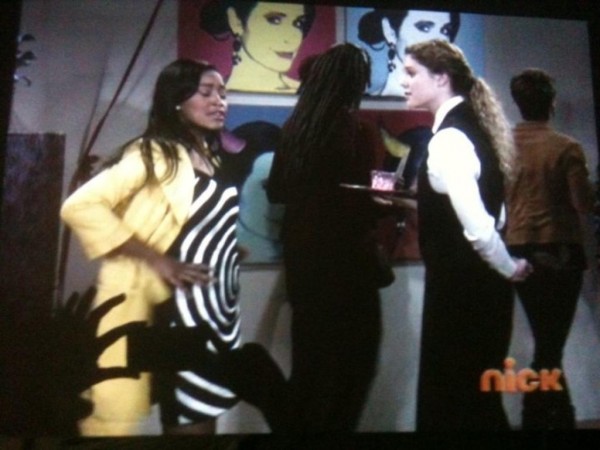 Whoop, there it is. Ballin'! As soon as Dolly Parton mentioned Keke, I jumped to my tweeting device and tweeted @KekePalmer in the vain hope for a tweet-back reading "Hey, why don't you come hang out with me & Dolly after the show?" but no tweets and no dice. Dang.
Dolly Parton talked a good amount between songs and I hung on to her every word. The dudes behind us were more into being at the Hollywood Bowl than they were into shutting up and listening to the Goddess speak, but it was all good-natured. Dolly Parton is very inspiring and loves to give advice. Which is good, cause lately I've been looking for some career counseling, and I found it at the Hollywood Bowl. More or less, she said,
"If there's anything you want to be, you have to just be it now. Don't wait for anything; just start doing it and you'll be it. Don't waste time regretting what you could just do."
Thanks, Dolly! That's what I need to hear. I keep telling people I'm trying to be a writer, and Dolly, you're right…. I shouldn't just try and be a writer; I should just BE a writer! Yeah! Writers write, so I'm writing, thus I am a writer by default. Duh! Sometimes, you just need to hear Dolly Parton say it to believe it.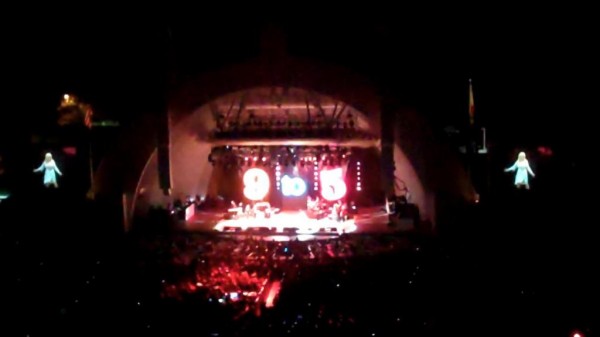 Dolly Parton did a little preaching to the crowd, which was generally well received. Probably not as well received as it will be when she makes her Georgia leg of the Better Day tour, but surprisingly she was not boo-ed by us heathen LA residents for her prothletising. Dolly Parton sang a song from her new album "In The Meantime," which I hadn't heard before, but found pretty with a fun beat. Dolly Parton then played a few upbeat gospel songs that I didn't recognize, but I'm sure my dad's church band, Old Rugged & Cross, would.
I almost cried when Dolly Parton played "Little Sparrow" from the same titled album. When the last note rang out across the expanse of the mesmerized crowd, Matt and I looked at each other and just said, "wow."
Dolly Parton ended her set with 4 of her biggest, and most crowd pleasing hits, "Why'd You Come in Here Looking Like That?," "Islands In the Stream," (Most recognizable to non-country ears as sampled by Mya, Pras, and Ol'Dirty Bastard for the song "Ghetto Superstar"), "9-5," and every broken heart's secret anthem, "I Will Always Love You," which was written by Dolly Parton in 1973, NOT Whitney Houston OR her Bodyguard in 1992, fyi.
Dolly Parton put on one heckuva show. That girl is still kicking ass and taking names like nobody's business. She looks like she's had a little face work done, but, meh, it's Dolly Parton. The woman practically invited breast implants. No one should ever be surprised when she looks a little different. I do very much wish I had arrived on time, but am so glad that I got to see her at all! I know in twenty years, I'll be just like the guidance councilor on Freaks and Geeks, bragging to his charges that he "once saw Hendrix live!"… and mine will be almost as impressive. Thank you Dolly Parton for coming to Los Angeles. Now please, don't get sick on the European leg of your tour, because I bet my family would beat me mercilessly if I got to see you play in LA and they had to miss you at the Cedar Park, TX show. Do it for the Dooleys, Dolly. The Dolly lovin' Dooleys.
Adventure on dudes and dudettes! – Sussana Dooley Boney
Dolly Parton @ The Hollywood Bowl 07/22/11 Setlist
Light of a Clear Blue Morning
Walking on Sunshine
Better Get to Livin'
"Jolene"
Rocky Top
Mule Skinner Blues
"Help!"
"Shine"
Stairway to Heaven
My Tennessee Mountain Home
"Precious Memories"
Coat of Many Colors
Smoky Mountain Memories
"Son of a Preacher Man"
"Better Day"
"Together You and I"
"Holding Everything"
"He Will Take You Higher"
"He's Everything"
White Limozeen
"The Sacrifice"
"In the Meantime"
Little Sparrow
"River Deep – Mountain High"
Here You Come Again
Islands in the Stream
"9 to 5″
Encore
I Will Always Love You
Light of a Clear Blue Morning