Review – EDC Vegas 2011 Day 3 @ Las Vegas Motor Speedway – Las Vegas, NV 06/26/11
EDC Vegas 2011 Day 3 coverage
It was the final day of EDC Vegas ,up to this point everything had been a bit chaotic but I finally knew where all the stages were and how to get around EDC Vegas which def made day 3 the best of them all.  The day 3 line up for EDC Vegas wasn't exactly my cup of tea and there really wasn't anyone I was dieing to see.  Harvard Bass, A- Trak, ATB, Swedish House Mafia, Laidback Luke and Afrojack all made my list of acts to see on my last day of EDC Vegas. As per usual things didn't go exactly as planned and I ended up catching a lot of acts that I didn't know but managed to blow me away.
EDC Vegas: Sunday Lineup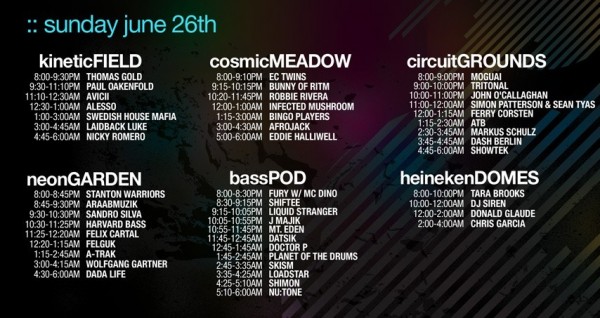 I started the night off  at the Kinetic Field with Avicii, an artist I had never listened to before, but had heard tons of people talking about throughout the weekend.  I wasn't exactly sure what to expect from Avicii's set, but with so many people buzzing about him, I knew it was going to be good.  Avicii def rocked my world and ended up being one of my top 5 EDC Vegas moments.  His set took things to a different level and had the crowd that had already been partying nonstop for the last two days moving and shaking.  My favorite part of Avicii's set was when he released a hundred or so giant beach balls that said I <3 Avicci on them.  I was lucky enough to be in the photo pit when this happened and got to spend a good 15 minutes throwing beach balls out to the people in the crowd. The experience was surreal to say the least.
After I was done jamming out to Avicii, the mega good-time party crew I was with swarmed over to the Cosmic Meadow to catch Infected Mushroom.  I thought I had seen Infected Mushroom live before, but I hadn't, and I ended up getting my socks knocked off.  From the second I arrived at Infected Mushroom and until I left, the entire crowd seemed to have their hands in the air, and they were having the time of their lives. The entire band was dedicated to rocking out and sounded fantastic.  I def have to recommend checking out Infected Mushroom.
Swedish House Mafia was the next act on my list to catch.  Swedish House Mafia destroyed the Kinetic Field and packed the place with party people.  I really dig how well Axwell, Steve Angello and Sebastian Ingrosso work together. The only way I can describe Swedish House Mafia's EDC Vegas set is that it was "face-melting."
I ducked away from Swedish House Mafia a bit early to go catch one of my favorites DJs, A-Trak.  I have seen A-Trak well over 14 times by now, and he is always on top of his music and plays a wide variety of musical selections. A-Trak always tailors to the crowd. There really isn't any one as good at scratching and spinning as A-Trak and he proved it to me once again at EDC Vegas.  For A-Trak's set, I once again took advantage of the VIP viewing area and scored a couch that had a perfect and clear view of the stage; it was deluxe.
After A-Trak, I spent the majority of the rest of the night just wandering around the EDC Vegas grounds and randomly checking out acts that sounded cool.  I managed to catch a bit of Afrojack, Laidback Luke and Dadalife.  I enjoy all of their sets, but around 3:30am I was officially out of it.  Three days of nonstop dancing and getting down had tired me out, and I was "zombified."  I stuck around to watch the sun come up, and then headed back to my hotel to crash.
In closing, I have to say that EDC Vegas was probably one of the best and well organized festivals I have ever been to.  Not only did they bring top of the line talent, lights, attractions, and video displays, but they managed to create an event were there was actually enough space to enjoy yourself.  A lot of these dance parties tend to have this space problem, but EDC Vegas completely eliminated it in my personal opinion.  I loved how friendly everyone working the event was, from the production staff to the guys giving out free water. EDC Vegas is a concert-goers dream, and I hope from the bottom of my heart that EDC Vegas takes place at the Las Vegas Motor Speedway next year.  An estimated 230,000 people attended EDC Vegas, and if you weren't one of them you missed out.  Big ups to Insomniac for believing "It's All About The Experience" and making EDC Vegas a new staple in electronic music festivals and events. -lorn