Review – EDC Vegas 2011 Day 1 @ Las Vegas Motor Speedway – Las Vegas, NV 06/24/11
Jun 29th, 2011 | By Poppinoff
Category: EDC Vegas, Electric Daisy Carnival, Las Vegas, Major Lazer, Skream & Benga, Steve Angello, Steve Aoki, Sub Focus, Wolfgang Gartner, Written Reviews
EDC Vegas 2011 Day 1 recap
EDC Vegas is officially over, and that means it's time to look back at all the fun upwards of 150k people had this past weekend. EDC Vegas was unlike any festival I have ever attended.  I had been to the past four EDC and have never been as impressed by what EDC Vegas had to offer.
Insomniac held true to their slogan, "It's All About The Experience," and transformed the Las Vegas Motor Speedway into a fun-filled carnival that featured an array of rides, games and 200 performers that spanned from DJ's, bands, dancers, gymnasts, and even sky divers.
The artists that I wanted to catch on the first day of EDC Vegas were Wolfgang Gartner, Röyksopp, Skream & Benga, Calvin Harris , Beats Antique, Bird Peterson, Steve Angello, Steve Aoki, and Major Lazer.  I was most excited about seeing Major Lazer, simply due to the fact that they seem to know how to throw a pretty darn good party.
EDC Vegas 2011: Friday Lineup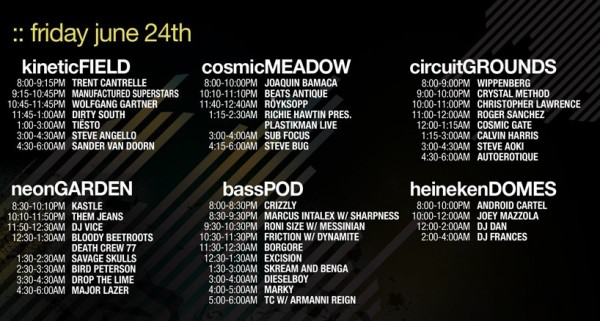 I arrived at EDC Vegas around 1am - transportation issues. I ended up missing Wolfgang Gartner, Beats Antique, and Röyksopp, which slightly bummed me out. However, the night was young, and I was able to catch a lot of great DJ's.
I started the night out at the Cosmic Meadow with Skream and Benga who dropped some sexy dubby beats that had the crowd getting down.  The fact of the matter is, we all love our dub, and Skream and Benga def delivered it at EDC Vegas.
At this point in my EDC Vegas weekend, I wasn't exactly sure where all of the stages were and ended up at the wrong stage a few times.  The first goof was when I was trying to catch the last 30 minutes of Tiesto at the Kinetic Field (The largest stage in North America), but ended up watching the last 30 minutes of Calvin Harris at the Circuit Ground instead.
I have seen Calvin Harris do a few DJ sets and have yet to be impressed.  I really like the music that Calvin Harris produces, but I feel that he should get back into performing his tracks live instead of just playing them and standing around.  The crowd at his set seemed like a wet blanket, so after about three tracks I decided to move on.
I wandered around for a bit and ended up back at the Cosmic Meadow to catch an artist I had never heard before, Sub Focus.  Sub Focus ended up being my highlight of EDC Vegas Day 1.  The crowd was out-of-control, and Sub Focus didn't let up for a single second. The highlight of Sub Focus's set was when he dropped his track Timewarp. Things got nutty to say the least. After this set, I can't wait to catch Sub Focus again. If you are like me and have never listened to him before, I suggest you get on it asap.
Sub Focus – Follow The Light by a_rtu_r
When Sub Focus's set ended, I made my way to the Kinetic Field for Steve Angello and actually found the right stage on this go around.  The Kinetic Field was pure insanity!  I couldn't believe how big the stage was. I thought the other stages at EDC Vegas were gigantic, but the Kinetic Field put them all to shame.  Steve Angello held it down and kept the crowd moving until the wee hours of the morning.  I am not a huge fan of house music, but Steve Angello has always kept my attention and I am def glad I caught his EDC Vegas set.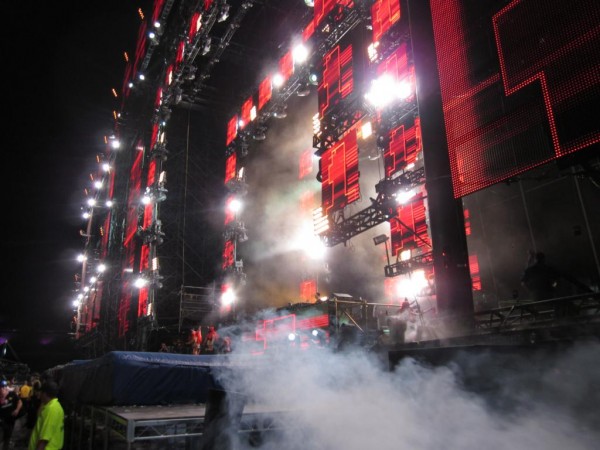 The night was ending, and there was still one group I just needed to catch - MAJOR LAZER!!!
I love seeing Major Lazer live. It's always get-down party time.  The coolest thing about Major Lazer's set was that they went on around 4:30am, and around 5:00am or so the sun started to come up. Everyone was still raging on.  It was amazing how fast the night went and that Major Lazer still had the crowd going.
Diplo dropped some killer tracks throughout the set, but Skerrit Bwoy is def my favorite part about seeing Major Lazer live. Skerrit Bwoy has proven himself to be one of the best MC's in the electronic dance scene.
I thought the Las Vegas Motor Speedway was an amazing venue for an event of this nature, and provided more then ample room to dance and move around. I also loved that Insomniac provided  free water refill stations, as it kept the party people moving throughout the night.
After Day 1 of EDC Vegas, I was looking forward to Day 2 of EDC Vegas, and knew the party was only going to get bigger. -lorn