Ep. 208 – 8 off 8th Road to Bonnaroo @ Mercy Lounge – Nashville, TN
Chrystal checks out the Road to Bonnaroo at Mercy Lounge's 8 off 8th concert series, and gets fan reviews after the event.
On Monday nights, the Mercy Lounge features 8 bands. It's a free admission, 21+ night, sponsored by Budweiser and BMI. Each band plays 3 songs, and it's a great way for people to discover new bands, and a great way for local bands to get exposure.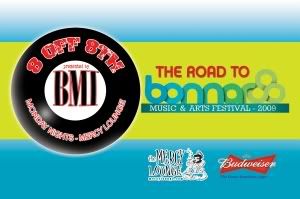 The Road to Bonnaroo Series is especially popular, because the winner gets a spot in the Bonnaroo lineup.
Heypenny tore the house apart. I saw them recently, and they stepped it up 10,000 notches for this show. Their set was a lot of fun, and I can only imagine it will be even better at the festival.
There was so much talent at this event. Kindergarten Circus shocked me. They were little dudes rocking out punk stylee. It's too bad they opened the show. Not enough people saw them. Also, their songs were about 2 1/2 minutes, so they didn't have a lot of time on stage. I appreciate the fact that Drew asked them to play the night of the Ramones tribute band. They'll be a perfect fit if they accept the invite.
I loved The Tits; they were rockin'! They tried stepping it up with a little spectacle…hot girls in pink bikinis. But even that can't compare with a marching band and nutty costumes.
Also, props to the DJ of the night -Fan Fiction. He added a nice flavor to the evening, and kept things moving during set changes.
Yes, Heypenny is a novelty band, but they are definitely going to stand out at Bonnaroo, and I can't wait to see that performance.
Congrats to Heypenny!
Oh, and yeah…if you haven't got it yet. Nashville, you need to come to The Mercy Lounge on June 3rd. YouTellConcerts.com is hosting our first show of our "Something Cool" series. Come down and support Harlott (www.myspace.com/harlottrock) and The Justin Kalk Orchestra.
Justin Kalk Orchestra is the Nashville contestant for Hard Rock's Ambassadors of Rock: Battle of the Bands. If they win, they are going to London to play with Dave Matthews Band, Neil Young, The Killers, and Bruce Springsteen. It's all up to online votes. So, come and see them, and then be sure to VOTE. For more info on The Justin Kalk Orchestra and The Ambassadors of Rock Contest, please visit the links below: