Ep. 214 – Jenny Owen Youngs & Jukebox the Ghost – 3rd & Lindsley
Chrystal catches Jenny Owen Youngs and Jukebox the Ghost in Nashville, and gets audience reactions after the show.
I
ha
d a few minutes to chat with Jenny Owen Youngs before her show at 3rd & Lindsley last week in Nashville. She is incredibly humble and natural in person and on stage. Her music reminds me of the 90s Hot AC sound. She mentioned how the Beach Boys are one of her influences and I could pick that up during her performance within her song structure.

Her new album, Transmitter Failure, is available on amiestreet.com. It's a perfect road trip album.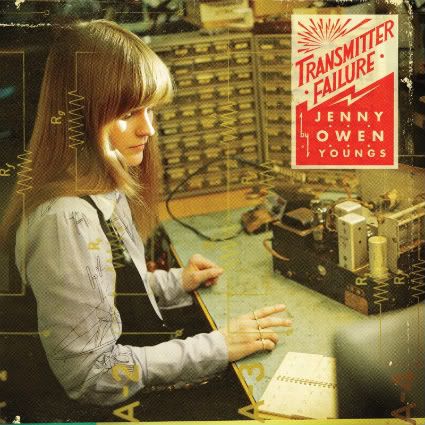 I have to say, Jenny hit the jackpot opening for Jukebox the Ghost. Both acts are wonderful songwriters, but very different in style. When they joined together to play each other's songs – it was tight and powerful – like a pop/rock jam session. Although, like one of the reviewers in the video mentioned, it's hard to call Jenny (or Jukebox) "pop." The term has become so general; it doesn't capture the craftsmanship put into these compositions.
J
u
kebox the Ghost was such a treat. I had never heard of them, and had no idea what I was about to experience. Classical keys, with a twist of Weezer, marinated in musical theatre, and topped off with jam band. Did I mention the keyboard player resembles a young Hugh Grant? Wowee! The guitarist has that Anthony Rapp (from RENT) vocal style, and the drummer will mesmerize you as he tosses a stick into the air, picks up a tambourine for a few measures, then tosses the tambourine into the air to switch back to the stick.

The best part of their set was when they combined three songs to tell a story about the Apocalypse and surviving through it. Check out Poppers86′s YouTube video (above) of the sequence at a previous concert last year.
The lyrics tell stories, and I was literally picturing a Broadway ensemble dancing and singing while they performed. They need to get with a playwright and put together a musical.

Upcoming Tour Dates as seen on www.myspace.com/jennyowenyoungs:
| | | |
| --- | --- | --- |
| | Cat's Cradle (w/ Jukebox the Ghost!) | Chapel Hill, North Carolina |
| | Canal Club Downstairs (w/ Jukebox the Ghost!) | Richmond, Virginia |
| | Rock and Roll Hotel (w/ Jukebox the Ghost!) | WASHINGTON, Washington DC |
| | Johnny Brenda's (w/ Jukebox the Ghost!) | Philadelphia, Pennsylvania |
| | Bowery Ballroom (w/ Jukebox the Ghost!) | New York, New York |
| | Cafe 939 at Berklee (w/ Jukebox the Ghost!) | Boston, Massachusetts |
| | Empire Dine & Dance (w/ Jukebox the Ghost!) | Portland, Maine |
| | Toquet Hall (w/ Jukebox the Ghost!) | Westport, Connecticut |
| | Mohawk Place (w/ Jukebox the Ghost!) | Buffalo, New York |
| | Garfield Artworks (w/ Jukebox the Ghost!) | Pittsburgh, Pennsylvania |
| | Northside Tavern (w/ Jukebox the Ghost!) | Cincinnati, Ohio |
| | Circus (w/ The Appleseed Cast & Jukebox the Ghost!) | Columbus, Ohio |
| | The Vollrath (w/ Jukebox the Ghost!) | Indianapolis, Indiana |