Ep. 219 – Sasquatch 2009 day 3 coverage @ The Gorge – George , WA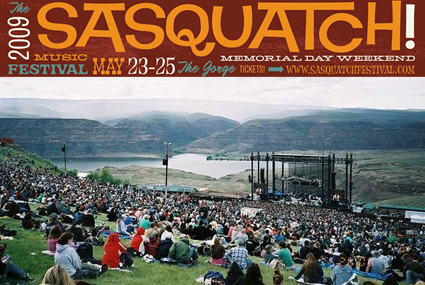 The third and final day of Sasquatch ended up being the most epic and enjoyable.
The day started off with an amazing performance from Santigold that got the entire Gorge bumping. I cant wait to see her again she has so much style and pizazz it was impossible for me to not enjoy her set. To date I would have to say Santi has been the best performance I have seen this year (2009)
Next I went to check out Blitzen Trapper a band I have wanted to see for a very long time but have all ways missed. Their set wasn't all I hoped it would be, it seemed as though the rest of the band wasn't playing along with the drummer creating an off beat tempo. I only stuck around for two songs then jetted off to catch Gogol Bordello a band I knew was sure to deliver.

Blitzen Tapper – Furr
Gogol Bordello was nowhere close to letting me down!! They have a fantastic get up and dance around sound and thats exactly what the vast majority of the crowd did. I have to say Gogol Bordello is a band not to miss.

Gogol Bordello – Start wearing purple
Fleet Foxes was the next band to hit the main stage, and another of the festivals home town hero's. I had heard buzz all weekend long about this band and decided to stick around and check them out. They are no doubt a musically sound band with a lot of talent. However, I did not stick around for much of their set simply due to the sun situation. I feel I would have enjoyed them a lot more if they had played one of the smaller stages after the sun had set.

Fleet Foxes – Ragged Wood
I then headed over to the Wookie stage and caught a few songs from a group called Monotonix. I am not sure how musically great this band is but they put on a crazy stage show that featured the entire band playing while crowd surfing on some sort of green mat. I found their set to be very entertaining but will most likely never see them again unless they are playing some sort of major festival.

Photo by : Jodi Schommer
The Knux were the next group to take the stage and boy oh boy did they throw a party!! I had seen them a few weeks back in Los Angeles and was less then impressed. This show was the complete opposite of that set. The entire crowd was up, dancing around, and having a blast.

The Knux – Cappuccino
Then it was GIRL TALK TIME!!!! I love Girl Talk and always feel privileged to catch his set. From the minute he starts there is no question. If you are going to stick around, you are going to be at a party. He invites as many people as he possible can to dance on stage and throws out fun and exciting things like blow up parrots, saxophones, giant balloons, and even a giant 15 foot whale that seemed to come from nowhere.
By the end of the set I was in a world of pain from dancing my ass off and just going all out crazy, but it was 100% worth it.

Girl Talk – Party
Erykah Badu would be the final act that I would see perform on the Main stage at the Gorge. It was exactly what I needed. Very chill and groovy! She has an amazing voice and I'm certainty glad I decided to catch her set.

Erykah Badu – Apple Tree
Chromeo rounded out the night and the festival for me with an amazing DJ set that I was unable to catch in its entirety due to sheer exhaustion. The bit I did manage to catch was suburb and ended up being the best Dance Tent set of the weekend.
I will miss you Sasqautch, Gorge, Friends, and all the great people I met over the weekend. I hope you don't forget me because I wont forget you.
This was the best weekend in a long time and can't wait for next year's fest. -lorn