Ep. 224 Toadies @ The Exit/In – Nashville, TN
I know the Toadies have a lot of fans, but after seeing them live this week, I think they are seriously underrated. They came out onstage, and I thought to myself, "These guys look like neighborhood dads that started a garage band."
Then, they rocked me with catchy songs composed with unique changes that really set them apart. Even the little things, like that song where Vaden Todd Lewis bangs the guitar body so the strings vibrate to create that cool sound, and that microphone that gives his voice that old-time distorted radio effect; they really make a creative difference.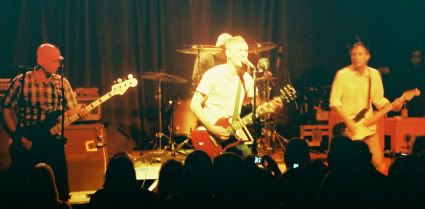 The audience was so into it. The chick dancing in front of me busted out the most awkward moves I've ever seen – a combination of hippie sways and rock stomps…but it was awesome. I loved how much fun she was having, and everyone around her was feeding off that energy.
The Toadies didn't have any fancy set elements, except a person randomly running around in a pizza costume for a minute; that was kinda fancy. The people watching, and discovering that the Toadies are not an average "one hit wonder" was enough for me.
The band plowed through their set, fitting in as many songs as possible and doing whatever made the audience happy. You want to hear that song? Okay. You want me to wear your orange scarf all night? You got it.
They'd take breaks every now and then to play the first couple measures of classic hits, and then abruptly stop them. Wicked funny. Todd Lewis explained that preparing those little pieces is one the band's favorite ways of wasting time on the road.
So yup, the Toadies are back together with a new bass player, Doni Blair, and have released a new album on Kirtland Records! Check out tracks from "No Deliverance" and upcoming tour dates at www.myspace.com/toadies