Ep.233 – Eddie Vedder @ Ryman Auditorium – Nashville, TN
We did it! Thanks to a couple of generous dudes, we made it into the sold-out Eddie Vedder show at the Ryman Auditorium.
Being a theatre geek, I always appreciate an artistic set. Vedder's stage was set up like a living room with a strange brass skull with wings ornament, a loveseat shaped like the soles of feet, a Corona box kick drum, an old reel-to-reel player, random suitcases, and a brick building alleyway backdrop. Very minimal/black box, and it worked perfectly for the venue and show.
I've seen Pearl Jam once before at VH1′s Rock Honors The Who, and this was completely different. The full band performance was very exciting, but this was a more sensory experience. I've never been a huge Pearl Jam fan, but I recognize that Eddie Vedder is a legend in the making, and has been a powerful inspiration to my generation.
With this show, I saw Eddie Vedder – the person and poet. He talked with the audience as if we were at a VIP soundcheck or hanging with him at a coffee shop.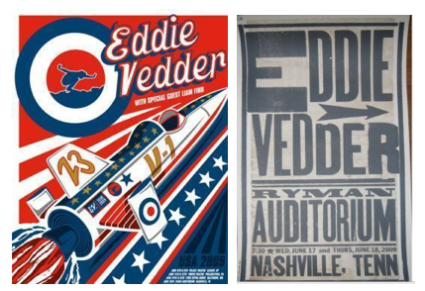 For some reason, people felt comfortable enough to scream out when he was trying to tell a story about stealing a notebook of guitar chord formations from church when he was a kid. When the crowd 'shushed' the yellers, Eddie jokingly gave permission for us to punch the person who yells out next to us. "If you get arrested, don't worry. We'll throw a benefit for you, and get you out," he said.
A woman then screamed out "I love you, Eddie," to which Vedder replied, "Would someone please hit her?"

It was hilarious. But it kept going, and it caused the show to slow down. I could tell Eddie was getting irritated at one point, but he pushed through it like the professional he is, and it was obvious how much he loved and appreciated the audience and their enthusiasm. It just proves how much power we the audience have over celebrities. People who we think have all the power.
My favorite part of the show was the first encore where Eddie brought out co-writer Jerry Hannan for "Society," a song off the Into the Wild soundtrack. He also brought out Liam Finn and EJ (Liam's back-up vocalist/instrumentalist.) Vedder did a vocal loop to close that encore, singing several different parts with harmonies that were breathtaking and majestic in the Ryman's church setting.
A beautiful night.
Sidenote: To the guy in this review video who drew the poster for the contest with this show in premonition, I'd love to see a picture of it and post it on our site. Email it to us.
UPDATE 7-7-09: Email from Eric Christensen – this is what YouTellConcerts.com is all about

I drew this for a Pearl Jam poster contest  back in 2007 held by the 10c (PJ fan club).  Along with the poster, I sent in this long letter explaining my inspiration for choice of venue, setlist, etc…  I'll give you a quick background on it.  I saw Neil Young's 'Heart of Gold' dvd back when it first came out.  At the end, during the credits, Neil Young does this incredible version of his song 'Old Laughing Lady' to an empty Ryman auditorium. I got this vision as if the stage was set for Eddie Vedder to pick up where Neil left off.  Boy, it's nice to be right.
Long story short, my wish was for Ed to open the show followed by PJ.  My poster didn't win the contest, but years later Ed actually played the Ryman.  Words really can't describe what that show was like for me.  In my interview with you, I wanted to express so much more.  I thank you for your interest in my interview and wishing to see my poster..  It's not the finest piece of artwork, but I think it captures the spirit. Wanted it to look like this simple eye that follows you around, but up close it's what the eye beholds. Maybe Ed will bring the whole band next time.
Thank you,
Eric M. Christensen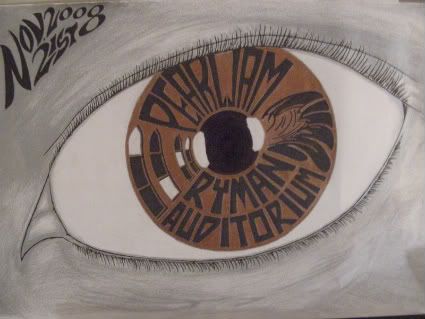 Upcoming Tour Dates as seen on Pollstar.com: