Ep.239 – Plain White T's @ Rocketown – Nashville, TN
Chrystal checks out the Plain White T's and Nashville's own Cactus's at Rocketown, and gathers fan reviews after the show
I always feel a bit awkward walking into Rocketown.  I go to the venue when I want to see a guilty pleasure show that is out of my age range. I can't help it. I love mainstream pop.
I also enjoy the people watching - the excited teenagers and pre-teens all dolled up, prancing around with their crushes, bopping to the bands, and anxiously waiting outside for the artists to walk to their buses after the show so they can get pictures and autographs.
This Father's Day Plain White T's concert was extra adorable. There were a lot of Dads who brought their kids. I watched one father dance with his daughter during a song, and it was especially heartwarming. She loved to twirl.  By the end of the show, the little girl was exhausted, but woke up for the last song, and watched from the sweetest seat in the house…Daddy's shoulders.
As for the bands, a local band, Cactus's, started the lineup.  They are a great band, but far too heavy for this crowd.  I was wondering how they managed to get on the bill for such a pop-friendly show, until the end of Plain White T's' set.
During their hit, "Hey There, Delilah," a couple of Cactus's band members got on each other's shoulders and sang the song to The Plain White T's in a silly serenade from the audience.  PWT's Singer, Tom Higgenson, stopped in the middle of  the song and told the crowd about a time when they were performing a recorded for television performance in Canada.  Their friends, Cactus's, were in the audience and got kicked out of the venue for starting a mosh pit during "Hey There, Delilah."
Company of Thieves was my favorite opener.  This Chicago group is nice change to what is out right now. The accompaniment is rockin' with a 60s/70s style, and the singer, Genevieve Schatz, makes it modern with a natural look and unique quality to her voice, like Bjork morphed with Macy Gray.  Schatz is a fantastic frontwoman with lots of spunk and movement. Loved it!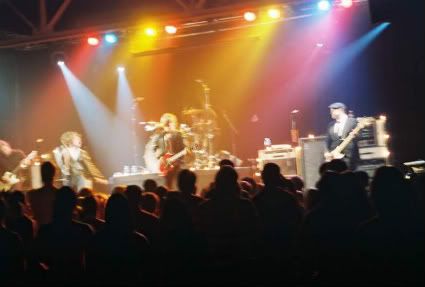 As for Plain White T's, they were dead on. Everything sounded great. Love songs galore, cute Beatles-like head wobbles, and witty banter between the members and audience. The guitarist, Tim Lopez, stole the show a few times. I began to wonder why he doesn't sing more in the band. He has a mature voice that will carry him through this phase in his career.  We'll probably see something solo from him in the future.
Cute boys singing love songs…how can you go wrong?
Check 'em out. Plain White T's Tour Dates as seen on their Myspace:
| | | |
| --- | --- | --- |
| | Morton Arboretum | Lisle, Illinois |
| | Myth Nightclub | St. Paul, Minnesota |
| | The Fillmore | Detroit, Michigan |
| | Metropolis | Montreal, Quebec |
| | Beacon Theatre | New York, New York |
| | Constitution Hall | Washington DC, Washington DC |
| | Tower Theatre | Philadelphia, Pennsylvania |
| | LC Pavilion | Columbus, Ohio |
| | Uptown Theatre | Kansas City, Missouri |
| | Murat Egyptian Room | Indianapolis, Indiana |
| | Ryman Auditorium | Nashville, Tennessee |
| | The Tabernacle | Atlanta, Georgia |
| | Warehouse Live | Houston, Texas |
| | Stubbs | Austin, Texas |
| | The Palladium Ballroom | Dallas, Texas |
| | The Fillmore | Denver, Colorado |
| | McKay Events Center | Orem, Utah |
| | The Knitting Factory | Boise, Idaho |
| | Arlene Schnitzer Concert Hall | Portland, Oregon |
| | Paramount Theatre | Seattle, Washington |
| | The Fox Theatre | Oakland, California |
| | SDSU Open Air Theatre | San Diego, California |
| | The Wiltern LG | Los Angeles, California |