Ep.258 – The Dead Weather @ War Memorial Aud. – Nashville, TN
I had been sending requests like a mad woman for this Dead Weather show. With Third Man Records home-based in Nashville, I figured this might be a difficult show to get into. I'm not a crazy Jack White fan. I mean, yes…I got really excited when I saw him walk into the AC/DC concert at the Sommet Center, and even more excited when I saw him and friends enjoying a frank at Hot Diggity Dog…but I can't say I've listened to an album in entirety. I like the music, and I have some songs thrown into my shuffle, but overall; there is something missing for me. To be quite honest, it's probably just my love for pure pop/dancy music that made me this way.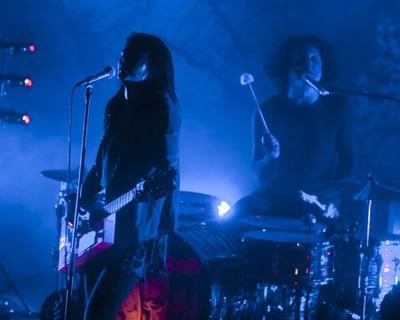 Photo by Steve Cross @ Nashville Scene
No matter what (as I have mentioned numerous times before), I believe White will be known as a musical legend, and I wasn't about to miss The Dead Weather perform in Nashville. I have to say, I liked this show more than The Raconteurs show that I saw at The Greek in Los Angeles.
Photo By Steve Cross @ Nashville Scene
Maybe it was the sexuality of the performance that everyone talks about in the review video. It was grungy, yet well composed, and really fun to watch. During one instrumental, Alison came out with a glass of wine and a cigarette, and just lied on an amp. Even when she's in the dark, she gets your full attention. I thought Alison was Courtney Love-like, but, for some reason, a little classier, (No disrespect to C.L.) and with a smooth voice.
Oh, and did I mention – Tre Cool from Green Day was in the crowd. Of course, we said "Hi," and told him how excited we were about seeing his show the following night. He told us to get there at 8:00, because they go on early. Liar. He just wanted to make sure we were there for the Kaiser Chiefs – their opening band. Love that….Looooove it!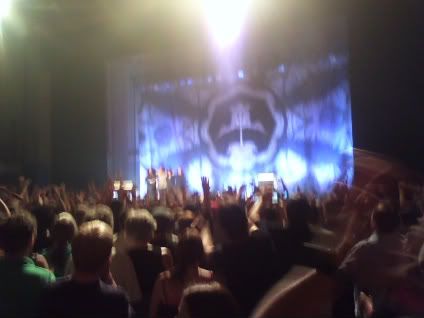 I was talking to one girl after her YTC interview, and she said she came to the show because it was "underground, but not." Perfect description. If you want to see a great band (with a superstar already in it), before they go mainstream – check out The Dead Weather!
Find Tour Dates Here: http://www.thedeadweather.com/shows.html