Ep.269 – Keith Urban @ Sommet Center – Nashville, TN
I just read The Tennessean's review of the Keith Urban show in Nashville- something I try not to do before writing my own. Terrific write-up. (Read it HERE) The first sentence encompasses the cab-ride home conversation we had after the concert.
Guy is NOT a country fan. We had to drag him out to this one, but 7 tallboys later – he was content and very jealous of the guitars Sugarland and Keith Urban were playing. He had his eyes-peeled for any fumble Urban might make, or a sign to show that he might not actually be playing. At the end of the show, although he didn't like the music, he agreed. Keith Urban is a great guitar player, and followed it up with…"that's not Country…it's pop."
I thought it was Country. No, it's not the overly descriptive twangy stuff we stereotype as "country." But, it has Country qualities: the tempos, the song structures, the clean/mature lyrics, and even Urban's overall style in personality and appearance. I heard a lot of Rock in the guitar solos too. What's wrong with crossover? There's pop/rock, country/rock, rap/rock – the list goes on…and country/pop has been tearing it up lately. More power to it.
By expanding the genre, you reach more people, and hence pack the Sommet Center.
This whole "Country evolving to Pop" thing, ties into a question that I asked Urban at the BBQ meet-and-greet before the show. I asked him my usual, "What was the best concert you've been to as an audience member?"
He said that there were a couple. His first concert was seeing Johnny Cash in Australia. He remembers being really little and seeing the spotlight shine over this black figure, and thinking while watching him, "I wanna do that."
Later in life, he saw John Mellancamp and that show made him realize that he could do both Country and Rock. He didn't have to choose. He left that concert, not wanting to copy him, but have his diversity.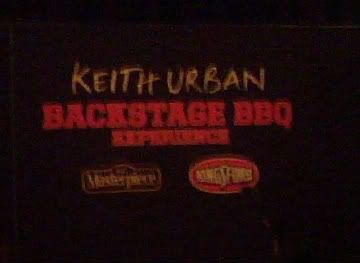 I'm so happy I raised my hand in that meet-n-greet. Urban seems like a great person. He didn't rush through meeting the fans. I guess he had played a private BBQ earlier in the day. I don't know how he does it. I was exhausted at the meet-n-greet, and I did a whole lot of nothing all day.
He was glowing last night. You could tell he was happy to be home. He mentioned to my friend that Nicole Kidman was on the bus, and during the show he sang an on-the-spot song about how he loves Nashville, and is so happy that he can go home after the show and be in bed by 11:30.
Photo Credit: Shelley Mays/The Tennessean
Keith's a funny guy. When addressing the different sections of the arena, he bowed to the executive boxes, and said "Thank you for letting us play for you this evening."
I loved the show. He moved quickly through the setlist, keeping up the pace, but not rushing. Something new happened with the set every couple of songs. He incorporated a lot of psychedelic images to the video displays, and his light up guitar was killer. I don't know many Keith Urban songs, but there was a section where it was just him on the stage singing to a huge crowd. We were sitting a bit behind the stage, so I could kind of see his view. It was beautiful. It must be an incredible feeling.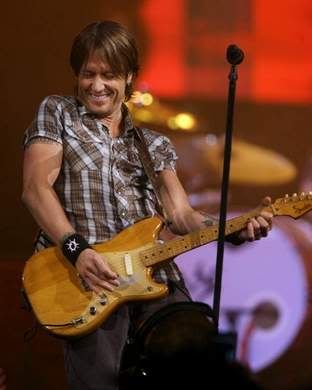 Photo Credit: Shelley Mays/The Tennessean
That was the best part of the show for me. He sang "You'll Think of Me," with an intro video of a compilation of YouTube videos of people singing the song – cool touch.
Photo Credit: Shelley Mays/The Tennessean
As for the opening act, unfortunately, I missed most of Sugarland's set, but I could hear that the crowd was having a blast. I walked into the Sommet as they played an interlude of party song snippets, including Nelly's "Hot In Here." It was a great primer to get people excited for Urban. Jennifer Nettles has a unique voice. I'm not sure how natural it is, but it's powerful and she is a great performer. She would be great in musical theatre, and I recall reading somewhere that being on Broadway is one of her dreams.
Amazing time last night. I hope to see both acts again soon. I'm going to try my hardest to attend the October 13th Country Music Hall of Fame benefit at the Sommet. Urban will be peforming along Vince Gill and Faith Hill among others.