Ep.273 – Taylor Swift @ Sommet Center – Nashville, TN – 09/12/09
Years ago, I was working out of the LA office at my day job, and I got an email saying that an artist was coming by to sing a few songs. About 10 of us gathered in the 5th floor conference room, and a beautiful girl with wavy-blonde hair greeted us, introducing herself as Taylor.
She started off the performance, making it very clear that she was only 16 – daintily hinting to the drooling men in the room that they should stop the inappropriate thoughts immediately.

She then played a handful of songs acoustically. During one of them, I had to forcefully hold back tears.
Although the material was a bit 'young' for the people in the room, we all could relate to what Taylor was singing about – we had been there; and we could tell that she had something special.
Three years later, I'm sitting at a sold-out arena in Nashville, watching that little girl dominate. It's all very inspiring.
FEARLESS. Perfect name for her tour. Taylor is a Country/Pop hippie, sharing a beautiful message to her tween audience about taking risks, believing in yourself, and embracing your creativity and qualities that make you different. High school is tough, but even Taylor is just finding out that high school never really ends. If you're afraid, or let other people define you – you can lose your way.
Fearless she is. Taylor walks each step with a fun-loving strut. She owns those gorgeous locks – whipping them around like a rock star. (What does she use in that hair?) She's thin as a toothpick, but shakes those hips Shakira-style. Sure, it may look a little goofy at times, but who cares? Taylor has always been one to laugh at herself. It makes us smile, and she's having a ball – why hide who she is? Fearless.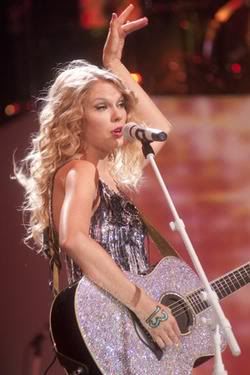 Photo By Steve Cross w/ Nashville Scene
The show was well-designed for the hyperactive generation it's targeting. There were lots of changes in scenery and lighting. It was theatrical, like watching music videos acted out live. Dancers were thespians as well. The costumes were vibrant and colorful, from the high school marching band/cheerleader opening (Nashville's band HeyPenney came to mind) to the Renaissance ballgowns in "Love Story."
Taylor did what lots of acts are doing this year – walking through the audience and playing from a backstage and/or the balcony. There were fun videos in between set and costume changes that featured some of her celebrity friends, which filled the "dead-time" well.
She intertwined one of her songs with a rock-riffing cover of Justin Timberlake's "What Goes Around…Comes Around."
A surprise duet of "The Way You Love Me" with Faith Hill was a treat, and the next-to-last heart-shaped confetti-laced number featured opening acts Gloriana and Kellie Pickler.
The encore drum sequence was intense; a nasty girl fight banging on rusted tin trash cans like SlipKnot, with creepy spacy-lightning graphics in the background. Elements that I'd match up with the upcoming Metallica show…not Taylor Swift. Rad.
Video by YouTube User – 1998LilBit
The main set design was unique, and I was impressed to hear that Taylor came up with it herself. White circular and rectanglar platforms that doubled as projection screens for various light patterns and video. They added castle towers to the foundation for "Love Story," which was overall my favorite part of the show.
Taylor definitely has a talent here. Not only for the big stage, but I also heard she designed the VIP Vibe Lounge backstage, which was gorgeous. She transformed a section of empty basement into a swanky, sweet-smelling hang out spot, complete with plenty of sushi, gourmet thin crusts, desserts, and more. She added personal touches like pictures of her friends to jazz up the tent post, an iPod with music I assume she selected, and a guest book for us to sign. She toured the room greeting everyone, sporting her lucky number 13 painted on her hand, and then stood on a couch in high heels thanking everyone (once again) as a group for their support. She's a crowd pleaser.
Now that I think of it, she brought home-baked choclate chip cookies to Big D and Bubba's morning show the other day. We might have a new Martha Stewart on our hands.
Wouldn't it be cool if she developed a wedding line – or helped coordinate celebrity weddings? Like she doesn't have enough to do.
It's almost like she kills you with kindness. Why would a reviewer ever want to say anything bad about her? She's so precious and talented. I've heard people say that she's rehearsed. It may seem that way, but I believe she likes being prepared, and one of my college professors always said that luck comes with being prepared.
I wish I didn't watch the YouTube video of her listening to fans scream at Madison Square Garden before I went to the show. It did seem like she replicated that reaction when she took in the audience screams at our show, but that's just to an outside eye. Each night must be different for her, and she deserves those moments to bask in her fans' adoration. This is her first headlining tour, and she did just score four CMA nominations. She's been working hard.
However, for the next tour, I would cut down on those ovation moments and not spend so much time focusing on the bad experiences with boys that inspired the songs.
I hope the next album brings happier songs, and less broken heart songs, because that's what Taylor is now – happy and fearless.