Ep. 330 – State Radio @ Exit/In – Nashville, TN
I knew that it was going to be a good show when the background music cut off, and a Red Sox chant started up.  I was among my own kind. The Knights of Bostonia, State Radio, took a stage which was dressed simply, but effectively, in a red backdrop with three black and white photo panels displaying marches and picket signs. The lighting flashed on the panels producing a visual that seemed far more advanced than it actually was -  a very smart and fitting set design.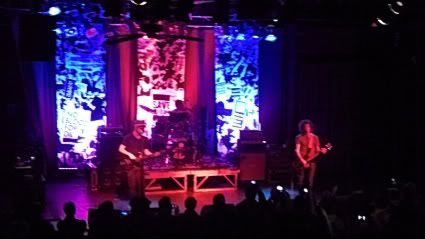 There was something familiar about State Radio's sound; something very '90s that may have faded out over the years, but now stands out like a big 'ole thumbs up. It's a sound that I have missed in more recent years.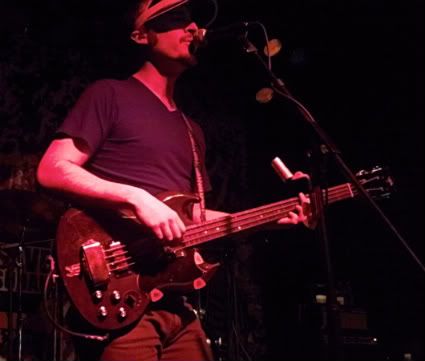 I asked Guy to come to the show with me, and he said he'd let me know.  Guy likes to do his research before committing to a concert experience. After some browsing of the interwebs, he called me and said "I'm actually excited to see these guys."  This is such an abnormality that I asked Guy to contribute to this post, and even weirder – he agreed!
"…a positive Reggae/Ska band with a touch of Rage Against the Machine riffs to drive their point.  For being a three – piece, they sounded fuller than some 4 & 5-piece groups that I have seen in the past.  I would recommend it to anyone who loves the positive vibes of reggae, but with some power behind it to change it up." – Guy
Guy was also intrigued by the Afri-can Gas Can guitar that Urmston played during the set.

This pic is the closest thing I could find online

We got a chance to sit down with Chad before the show, and I was floored at how involved State Radio is with the communities they visit. In an era where everyone is doing multiple jobs, there just doesn't seem to be time to help.  Then, you see all the work State Radio is putting into their service projects while traveling the world…you have to ask yourself – am I really that busy?  I should be doing something.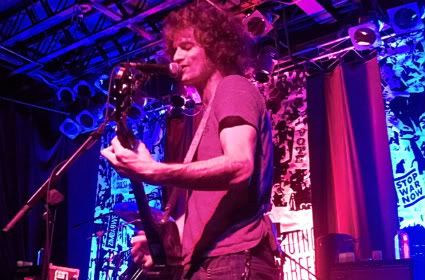 I love that more and more bands are integrating activism as an equal part in their development process; utilizing modern technology, and their talent and success to spread messages, gain awareness, and get people involved in change. For instance, Chad and State Radio's tour manager, Sybil Gallagher, founded the Calling All Crows – an organization "mobilizing musicians and their fans to promote human rights."
You can find out more about Calling All Crows at www.callingallcrows.org
Check out tour dates and the Knights of Bostonia video at: www.stateradio.com
State Radio – Knights of Bostonia