Ep.342 – Happy Valley w/ Mindub & Jane Dupree @ Aerial – Nashville, TN
For the past few days, the weather in Nashville has been perfect.  After a gorgeous day hiking, and a wine-tasting picnic at Arrington Vineyards, I headed to the Happy Valley event at Broadway's rooftop venue, Aerial, where Jane Dupree and Mindub were DJ'ing.
Downtown was swarming with people ready to party; Predators (and Detroit Red Wings) fans, bachelorette parties, the usual tourists, and those who love these Happy Valley events.  This was my first one, and it's nice to see Aerial used to it's potential.  I've been to the spot a couple times, and I remember being bummed that there weren't more people there.
The place was packed on Saturday, but not uncomfortably packed. The whole setting made it more of a house party vibe, than a club; and so did the company.  You don't have to worry about perverts grabbing up on you and everyone is super friendly.  I usually hate going to clubs alone, but this was different.  Like one guy says in the video, "you can find BFFs anywhere."
Only once did a see a mini fight break out, but it came out of nowhere, and it was apparent that they were the only two people in the party with that douchebag aggression. It was broken up in a second, and no other incidents occurred.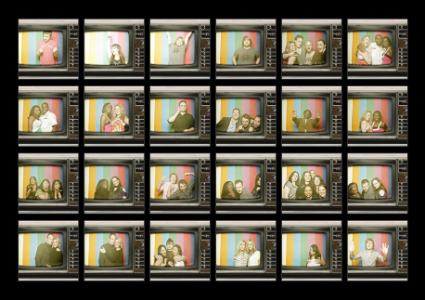 Of course, everyone loves a photo booth, and Generation Domination was there. They have been providing Nashville with fun Facebook profile pics since I've been here, and are a must-book for any party event: www.generationdomination.com
As for the music, Mindub and Jane Dupree compliment each other well. It seems that Mindub is geared towards the deeper dancer/regular club goer types.  Jane Dupree keeps that beat going, but adds in some familiar hip-pop for those like myself who came for the all-around party experience. Like the Happy Valley events in general, both DJs are  highly respected in the area.  It never got cheesy or too intense, and when transitioning between sets the difference in styles weren't awkwardly extreme.
Unfortunately, the club is dark – and my 'modest' equipment doesn't compliment low-lighted situations. I couldn't capture the night the way I wanted to in the video, but if you're like me, and enjoy going out dancing every once and a while – Happy Valley is the night to do it.
Keep tabs on Happy Valley HERE.
Mindub: http://www.mindubonline.com/main.html
Jane Dupree: http://soundcloud.com/discoterrorsquad or http://discoterrorsquad.blogspot.com
Jane Dupree -Smoke Break 4 by discoterrorsquad