Ep.343 – Ultra Music Festival day 2 – Miami, FL 03/27/10
Oh Ultra,  what an experience you are!  With over 50,000 people raging out of their minds on who knows what type of drugs, it's always an adventure of some sorts.
Ultra Music Festival  2010 Video Concert Review
I must say this year's Ultra was far superior to last year's. They fixed a lot of their bathroom/sanitation problems and security was not nearly as dick as the year before.
The line-up for Day 2 featured some of my favorite electronic and dance acts including Ghostland Observatory, Rusko, Glitch Mob, A-Trak, Major Lazer, and Diplo.  The one thing that kind of sucked about this line-up is that a lot of the artists I wanted to see went on before 5pm and the show was over at midnight.
Most of the raves, dance parties, and massives in Los Angeles/Southern California usually go until around 3:30- 4:00 am. With this show ending at midnight, it was difficult for me to catch more then 3 acts each night.  It's a bummer simply due to the fact that there were just so many great artists playing this festival. It's my own fault because I wasn't able to get out of bed before 3, but hey it's MIAMI!!!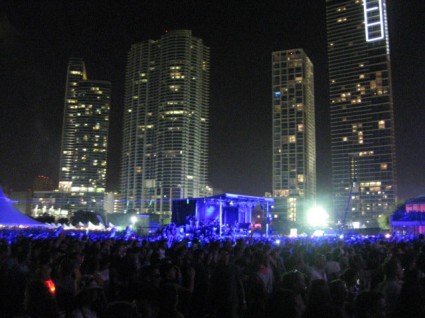 The first act I had the chance to catch on Day 2 was an act I previously had no respect for… Crookers
After watching a few minutes of their set at Ultra, I gained a new found respect for them. Their mixes were live, legit and a lot different than recorded tracks I have heard in the past. They also knew how to get the crowd moving.
After the Crookers set I wandered around for a bit and made my way over to the Biscayne Stage to catch one of the greatest DJs I have had the privilege of seeing in the last year… RUSKO!!!
Rusko always seems to bring something new to the party.  Mixing up pop tracks with crazy dub beats and drops, the crowd is pretty much always going ape shit.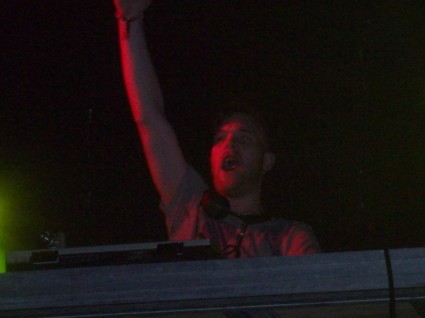 That said, Rusko himself seems to be into his set more than the crowd.  His energy and presence on stage def transfers directly into them.  He's not one of those DJs that just stands around and plays records.
Next up on the Biscayne Stage was the artist that won me over more then any other at the Ultra Music Festival and the 2010 Winter Music Conference,  BASSNECTAR!
I am not sure why, but for some reason, I had a negative opinion of Bassnectar. It might be that we have a very similar name, and I don't like peeps stepping on my turf (Lorn vs. Lorin); or that he performed at one of the worst festivals I have ever been to (Joshua Tree Music Fest). Nonetheless, he was the shit!! An amazing DJ that, like Rusko, actually gets into his set and tries to enjoy himself more than the crowd. I want to try and catch Bassnectar in the near future and highly recommend checking him out, if you get the chance.
The Biscayne Stage had a lot going on Saturday night,  because up next was MAJOR LAZER!!  This was the third or forth time I have seen these guys, and I feel as though the luster has worn off for me – or maybe it was just this specific set.
However, our boy Tyson had the time of his life getting crunk on stage and daggering bitches!
My next stop was the Bayfront Stage where Bryan and I had the chance to chat with Aaron, lead singer of Ghostland Observatory. What an awesome dude! We have run into him several times before and he is always down to chit chat. He spent some time giving us insight into the new Ghostland album that will hopefully be out sometime this year. (Sorry, nothing we can share right now.)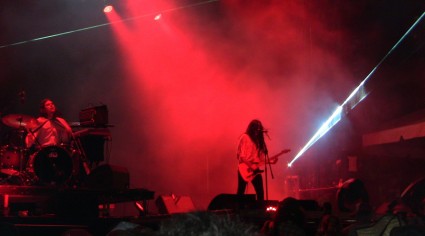 I have yet to be disappointed by a Ghostland performance.  They really go all out when it comes to performing live.     The one thing that did disappoint me was how Ultra cut the power to the stage. They were unable to finish their last song, or even properly say good by to their audience.  None the less Aaron yelled at the top of his lungs, " THANK YOU ULTRA!!"