Ep.344 – Nashville Pussy, Green Jellÿ, & Psychostick @ Limelight – Nashville, TN
We caught the Parental Advisory Tour with Psychostick, Green Jellÿ, and Nashville Pussy at Limelight, and I enjoyed myself  WAY more than I had planned to.  It was my first time to  Limelight, and I'm a fan of the venue.
No disrespect to the Cannery, but I wonder why some of the pop acts that fill out that place, don't perform at Limelight instead. It seems like a roomier setting for the concert goers, but maybe the stage is too small. Who knows?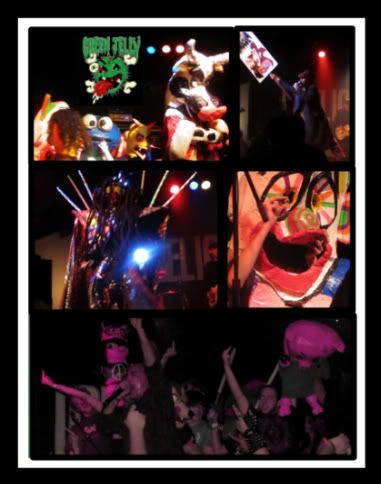 What's great about this lineup is that no one hogs (no pun intended – "Three Little Pigs") the stage or overstays their welcome.  Psychostick and Green Jellÿ perform short,  animated and stimulating sets that get your blood pumping and tickle your funny bone.  Many people thought they were too brief, but, in my opinion, I'd rather a band play one song too little and leave me wanting more.
Besides, these bands play fast and humorous songs, so you know…time flies when you're having fun.  Also, Green Jellÿ isn't a good band.  I mean, they are fun to watch, but musically – they are a mess, and they'll be the first to tell you that. It literally sounded like the band learned the songs an hour before the show.  Kind of like the rehearsal videos of my friends' pop cover punk band in New York- BEST IN RIVER.  So ridiculous, it's amusing.  I'm sure it can lose it's charm when sucking up too much stage time, but if done effectively, like Green Jellÿ did,  I'll come out time and time again.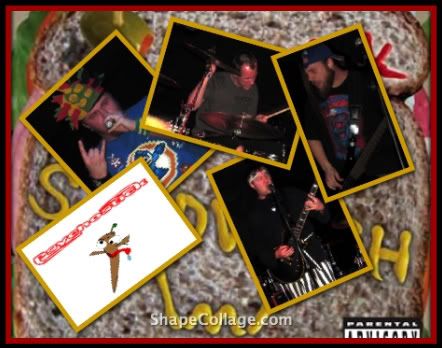 We interviewed the guys of Psychostick before the show, and their personalities made me like them even more.  The more I think about it, I realize how smart these guys are.  They take the music very seriously, but the whole driving force is legit hilarious comedy.  Comedy is a tough skill to tackle, and caters to all sorts of demographics and musical preferences.
Josh told us that he gets, "I don't like metal, but I like you guys," all the time, and that puts it into perspective.
While researching for the interview, at first glance I thought; "Okay, I see the appeal, but as musicians, where can they go from this?" The fact is, they are doing something different that has (and continues to) produce fans, exposure and opportunities. Plus, they are still able to work on more conventional projects, like Evacuate Chicago.
Be sure to check out our interview with Psychostick, and I couldn't find the MP3 link to my favorite tune of their release Sandwich, but you need to hear #1 Radio $ingle. It rolls me.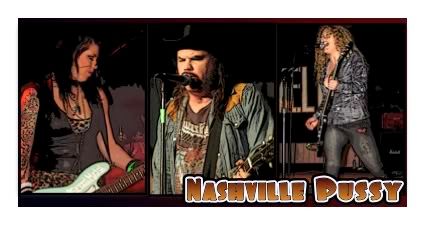 Nashville Pussy was so much better live than what I heard online.  I was expecting to have a glass of wine with all that cheese (cheese quote stolen from 'The Sasquatch Gang"), but it was really rocking.  Hard Southern Rock-based with 80s metal, and even a touch of punk in some songs.
I would love to see Harlott play with these guys/gals. If you're into Nashville Pussy, you should lend an ear to Harlott: www.harlottrock.com.
Yes sir, I'm glad I got a chance to finally see Nashville Pussy. I see the stickers around all the time, and was feeling out of the loop.

Green Jellÿ – Three Little Pigs: www.ihategreenjello.com

Nashville Pussy – Come On, Come On: www.nashvillepussy.com
Psychostick – BEER: www.psychostick.com