Ep.346 – Tegan and Sara @ Ryman Auditorium – Nashville, TN
It's hard to put a descriptive stamp on Tegan & Sara, but that's why they call it "indie," right? The term is so generic for the mixed bag that the genre is, that many people pass it off as 'the music hipsters and college students are listening to.' It can't be classified, and therefore, it's difficult to get signed to a major label without a great back story, a massive fan base, or sacrificing creativity; so you have to do all the work yourself.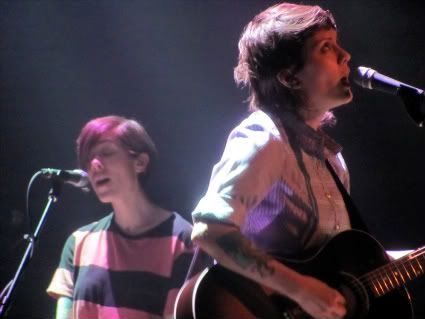 There's no set constant musically for Tegan and Sara except that they own it. For me, the foundation is potent folk-like lyrics, and they build on it from there, consistently and experimentally changing each song from the next. At a Tegan and Sara concert, you get everything from atmosphere and electronic to rock and pop. Pandora groups them with Metric, Yeah, Yeah, Yeahs, Frou Frou, and Rilo Kiley.
I entered the Ryman during Holly Miranda, who was just angelic. The auditorium was the most vacant I had ever seen it, and it was a shame that I (and so many others) missed the bulk of her set. From the response she got from those that did catch her, I'm sure she'll be back to the Ryman.
She dedicated her last song to an aunt that was once invited to sing at the venue. Someone offered this aunt a drink to loosen her up before she went on, and she declined – only to freeze up when taking the stage. Miranda's beautiful performance was a great way to give that family story that she grew up with closure.
STEEL TRAIN
Steel Train came on next, and although I don't think they were the best act for this crowd, I enjoyed them. Their sound was majestic, and had that Jersey "Springsteen" body to it with chimes and such. They might be too 'polished' for the Tegan and Sara crowd, but I bet their stuff could hit Top 40 radio. I think if they opened for a band like Owl City, they'd get more appreciation.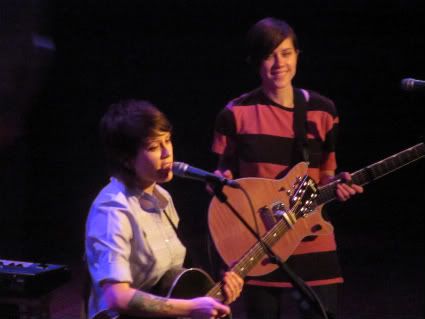 Being a social Tegan and Sara listener, after this show, I'm ready to commit to full-time and become familiar with their entire catalogue. They were purely genuine in stage banter, giving brief background on some of the songs (which I always love), expressing gratitude, and sharing stories. They talked about their grandfather, saying when he found out that they were playing the Ryman, he was impressed and, for the first time, truly acknowledged their success.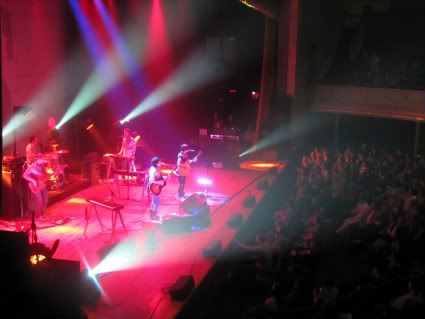 Sara mentioned how much she appreciated how attentive and present the audience was, saying that sometimes they play shows and everyone is texting and taking pictures. They want to capture the experience so much, that you wonder if they really are experiencing it.
I agree with this 150%. It's so important to put the phone down, and take it all in. Of course, covering the show, I was one of the few people taking a ton of pictures. So, when she said this, it broke me of my zone, and I decided to just relax and fully enjoy for the rest of the performance.
Check out TEGANANDSARA.COM for tour dates and more info.
Holly Miranda: www.hollymiranda.com
Steel Train: www.steeltrain.net
Tegan and Sara – Hell
Holly Miranda – Slow Burn Treason
Steel Train – Firecracker