Ep.347 – Vampire Weekend @ Ryman Auditorium – Nashville, TN
I apologize for the tardiness of this post. It's the Nashville way. Things get a little slow and then there's a surge of events in a row, and no time to edit.
Maybe it was the beer cup of Chardonnay I drank, but this was my second favorite concert at the Ryman Auditorium. Miranda Lambert holds that #1 spot. In this environment, there are limited bells and whistles. Set dress is minimal, and it always feels like a formal affair. Since the elements are so raw, your mood going into these shows and the aura of the people around you play a bigger role in your overall experience and opinion of the show.
I'm the type of person that loves crazy lighting and bands flying over the audience, but after a series of those – it's nice to throw a Ryman show into the mix. Vampire Weekend stood out for me, because it ended up tipping the scale toward the "go ahead and let loose" side.
A friend of mine told me that he was expecting to see a "too cool" crowd, and ended up getting the exact opposite. People were dancing in the aisles, and with people they've never met before.
With the audience fully embracing the tropical sounds of Vampire Weekend, the band, in turn, enjoyed themselves on stage and delivered a solid performance. Man, I wish I could have seen them at Coachella this weekend.
Abe Vigoda opened for Vampire Weekend. The few people I talked to about them said they'd check them out online, because they weren't feeling their set. Compared to Vampire Weekend, Abe Vigoda didn't have that sense of "liveliness" to them. There was lot of noise, similar to subway sounds, and it kind of dragged. It didn't make me feel happy and carefree like Vampire Weekend did. They may be out of their league opening for a band like Vampire Weekend, but I'm going to give them another shot if they come around again.
I think it's important not to write off an opening band after only seeing them once. They are in a development process, and it's cool to see how they progress.
YTC Shout Out: A mysterious man named James gave me a ticket to this show, and refused to take any cash I could give him. If you see this, thank you so much and enjoy the Karma, my friend!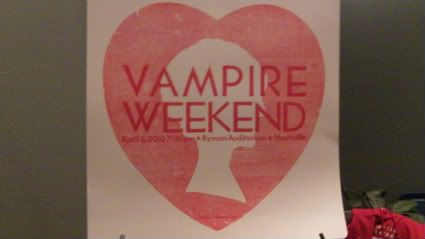 Yo te amo, Vampire Weekend.
Side Note: While sipping on my hefty cup of Chardonnay, I thought…how neat would it be if the Ryman had a silk screen set up to press t-shirts of the poster image of that night's show? That's a true collector's item. I know I'd be buying more merch.
Vampire Weekend – Horchata –   www.vampireweekend.com
Abe Vigoda – Don't Lie -  http://www.myspace.com/abevigoda