Ep.349 – Saint Motel @ The Echoplex – Echopark, CA – 04/10/10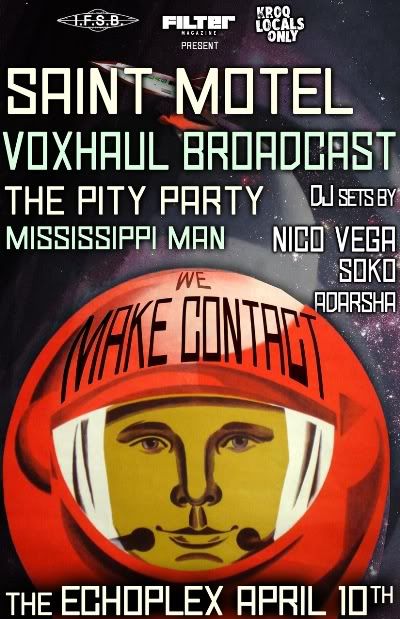 This was an epic night of music as Saint Motel tried to make contact with creatures from another planet.  Their inspiration - "World Contact Day."
From the Event Info Page on Facebook:
Here's some info about the origins of the first World Contact Day:
***The following is a true story***
In April 1953,  an organization known as the "International Flying Saucer Bureau" gathered all its members urging them to participate in an experiment termed "World Contact Day" whereby, at a predetermined location, they would attempt to collectively send out a telepathic message to visitors from outer space.
However, days before the 1953 World Contact Day, the head of the I.F.S.B. had a mysterious visit from some officials who scared him so badly he canceled the event and disappeared into the wilderness.
On April 10, 2010 the "International Flying Saucer Bureau"  has decided to try another mass telepathic ceremony.
Nobody knows exactly what happened with the 1st one, but it is rumored that they were onto something – something that Saint Motel plans to discover."
Saint Motel @ The Echoplex video concert review
This was my 5th time seeing Saint Motel,  and they never let me down.  They always bring more to the table than expected.
In addition to rocking out at this show,  I also had the honor of hosting it. It was fun getting dressed up for this show and acting like a UFO enthusiast.
I love that Saint Motel is into doing themed shows.  It makes concerts a lot more fun !
I would write more about the awesomeness of this show, but I think the video does it justice.  If you are interested in more about Saint Motel,  you can check out these two killer posts !
Ep.331 – Saint Motel Zombie Prom @ The Roxy – West Hollywood, CA – 02/13/10
Saint Motel is currently on tour with Band Of Skulls and just might be performing in a city near you !