Ep.351 – The Eagles @ The Hollywood Bowl – Hollywood, CA – 04/20/10
It was a cold rainy day in Hollywood, but thankfully the rain cleared just in time for the Eagles to rock the Hollywood Bowl! We arrived at the Bowl about 15 min or so before the band took the stage and were lucky enough to score free tix from both the owner of WingStop and The Beauty Bar two of our favorite Los Angeles establishments!
The Eagles @ The Hollywood Bowl video concert review
The Eagles busted out all of the hits plus dug deep in to some of their solo projects. My favorite part of the show was def Joe Walsh. He is by far the most badass, down and dirty memeber of the Eagles.  He was making random and kick ass comments at a constant!  Joe sounded great along with the wrest of the band but I think his voice had a lot more edge to it then the others.
Another part of this show that was really cool was all the delightful banter the Eagles had going on.  They told story's of yesteryear and their days in Hollywood.  It was neat to hear story's from a band that recorded just a few blocks away from the Hollywood bowl over 30 years ago as struggling musicians that were now headlining the Bowl itself.
I thought it was also very  funny that the Eagles kept referring to this tour (The Long Road Out Of Eden Tour) as the Assisted Living Tour.  Its great that they have a sense of humor about their age.
The Eagles @ Hollywood Bowl 04/20/10 Setlist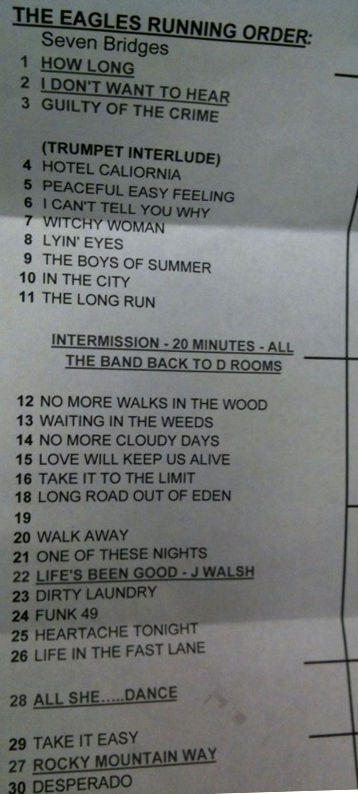 Closing thoughts on this show include.
1. The Eagles still got it!
2. Joe Walsh is a guitar playing badass
3. If you are a fan of the Eagles hits catalog you will enjoy this show.
4. The beer vendors were doing last call for over an hour to drive up booze sales
5. Everyone at this concert was plastered and prob shouldn't have been driving.
6. The lighting at this show was superb and fully utilized the Hollywood Bowl.
7. If the Eagles continue their farewell tour again I will be there!