Ep.352 – Avi Buffalo @ The Troubadour – West Hollywood, CA – 05/02/10
Seeing Avi Buffalo is just like driving through a forest on a winding road; there are surprises around every corner.
This was the second time I have seen Avi. The first time, I was more then impressed and captivated.  The second time – same thing. I'm not sure how to describe it.  I would have to say, it sounds a lot like a young, and not-so-wasted Isaac Brock (Modest Mouse).
Avi Buffalo – Whats In It For?
Modest Mouse -  Polar Opposites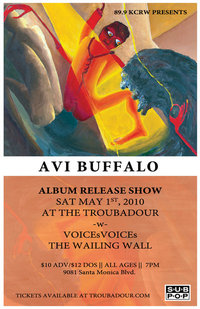 This band is rapidly improving their live performance, but they are still young and have a few things they need to work on before they will be able to rock some of the country's larger venues.
1. Everyone in the band seemed almost afraid to face the crowd, and often ended up turning in towards the stage and away from the audience. ( I think in a few years these guys will be taking the audience head on, and will be putting on a much more intense performance.)
2. A few of the band members were watching their fingers pretty intently as they played, almost as if they weren't sure they were going to play the right note. (I'm just nitpicking, but I notice these things and bet that in a few years they won't be doing it at all.)
All in all, Avi Buffalo is a fantastic band I hope to see again really soon. If you dig the music, I highly recommend checking them out live.  -Lorn
On a side note: I thought it was cool that the Troubadour along with the Key Club are now selling tickets to their shows on Ticketfly.com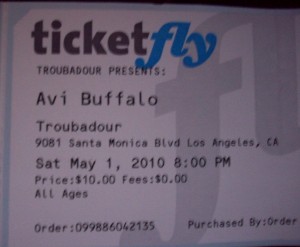 Avi Buffalo is about to embark on a brief tour of Europe,  but will be back in North America on May 30th to play the Sasquatch Music Festival in George, Washington. They will also tour the US and Canada this summer.
Sasquatch Festival

The Gorge, Washington, US

NXNE Acoustic Show At The Great Hall

Toronto, Canada, CA

NXNE @ LEE'S PALACE W/ Cold Cave, The Soft Pack

Toronto, Ontario , CA

Royal Oak Theater w/ Modest Mouse

Royal Oak, Michigan , US

Summerfest w/ Modest Mouse

Milwaukee, Wisconsin , US

80/35 Music Festival

Des Moines, Iowa , US

Grinders w/ Modest Mouse

Kansas City, Missouri , US

Twilight Concert Series

Salt Lake City, Utah, US

Crystal Ballroom w/ Blitzen Trapper

Portland, Oregon , US

The Aquarium

Fargo, North Dako, US

First Ave w/ Blitzen Trapper

Minneapolis, Minnesota , US

Turner Hall w/ Blitzen Trapper

Milwaukee, Wisconsin , US

Pier 17 / South Street Seaport

New York, New York, US

Osheaga Music Festival w/ Arcade Fire, Beach House

Montreal, Quebec , CA

Opera House w/ Blitzen Trapper

Toronto, Ontario , CA

Majestic Theater w/ Blitzen Trapper

Detroit, Michigan , US

The Vogue w/ Blitzen Trapper

Indianapolis, Indiana , US

Hi Dive

Denver, Colorado, US

ATP New York w/ Sonic Youth, Iggy & The Stooges

Monticello, New York , US
Tour dates as seen at http://www.myspace.com/avibuffalo