Ep.360 – Carole King & James Taylor @ The Hollywood Bowl – Hollywood,CA 05/14/10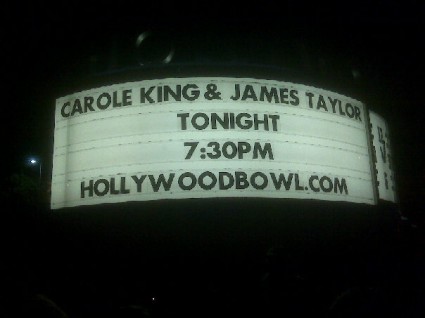 First off:  I wasn't sure what to expect from this show.  All I really knew was that Carole King and James Taylor had played at The Troubadour together, and were doing this show as a "Troubadour Reunion."  I had listened to a little bit of Carole King and James Taylor Live at The Troubadour, and could tell that they are skilled musicians. I have to say, their set went far above my expectations.
The show was broken into two separate sets separated by an intermission. The first set was composed of 14 songs, and featured hits such as Mexico, Natural Woman, and Carolina in my Mind.
It truly was a treat to get to hear these musicians perform. Both Carole King and James Taylor's voices were beautiful beyond comparison. In addition to their "epic-ness," they were also able to bring back the band that played with them over 50 years ago at the Troubadour (guitarist Danny Kortchmar, bassist Leland Sklar and drummer Russell Kunkel). Seeing these artists together was spectacular. Although I did not know every song they performed,  I was able to appreciate the all-around artistry that went in to this show and the composition of the songs.
The band then took a 20 minute intermission, and returned with another 15-song set that included a killer four song encore with hits such as Jazz Man, Will You Still Love Me Tomorrow, I feel The Earth Move, You've Got A Friend, and The Loco-motion.
( They also took a request from the audience and played Keep Your Hands Of My Baby; originally performed by Little Eva, and later covered by The Beatles)
The second set was a lot more rocking than the first set and pulled out all the stops.  At one point James Taylor made a joke about how his and Carole's catalog was so large that if they didn't cut songs out of the set, they would be playing for 9 hours.  I honestly think the crowd would have stuck around that long.
My favorite part of the entire show was a combination of two songs.  An elegant duet of the James Taylor song Close Your Eyes that would have been the perfect way to end this show and leave the crowd in awe, yet then it was followed up by a down and gritty good-time version of The Loco-motion.  The thing I enjoyed the most about these two songs collectively was that Close Your Eyes was done perfectly (from what I could tell anyways), and The Loco-Motion set the crowd off and into a frenzy, but was by far the worst-sounding song of the entire set.  It was the perfect contrast, and left me feeling exactly the way I wanted to feel after a concert.
Final thoughts:  A must-catch tour if you love American Pop, and Rock 'n' Roll music.  The amount of hits these two have written, performed, and produced is astonishing.
On a side note: Amazing crowd! Everyone was having a great time!  Such a good time that the event staff and the police weren't able to properly handle them – making it a total bitch to get out of the bowl. -lorn
Carole King and James Taylor Troubadour reunion tour dates
Tour dates as seen at http://www.myspace.com/jamestaylormyspace
| | | | |
| --- | --- | --- | --- |
| | JOBING.COM ARENA FORMERLY GLENDALE ARENA | Glendale, AZ, us | |
| | JOBING.COM ARENA FORMERLY GLENDALE ARENA | Glendale, AZ, us | Find Tickets |
| | Palace of Auburn Hills | Auburn Hills, MI, us | |
| | Palace of Auburn Hills | Auburn Hills, MI, us | Find Tickets |
| | Air Canada Centre | Toronto, ON , CA | Find Tickets |
| | Charlotte Bobcats Arena | Charlotte, NC, us | |
| | Charlotte Bobcats Arena | Charlotte, NC, us | Find Tickets |
| | BankAtlantic Center | Sunrise, FL, us | |
| | BankAtlantic Center | Sunrise, FL, us | Find Tickets |
| | St Pete Times Forum | Tampa, FL, us | |
| | St Pete Times Forum | Tampa, FL, us | Find Tickets |
| | Verizon Center | Washington, DC, us | |
| | Verizon Center | Washington, DC, us | Find Tickets |
| | Wachovia Center | Philadelphia, PA , US | Find Tickets |
| | Mohegan Sun Wolf Den | Uncasville, CT, us | |
| | Mohegan Sun Wolf Den | Uncasville, CT, us | Find Tickets |
| | Mohegan Sun Wolf Den | Uncasville, CT, us | |
| | Mohegan Sun Wolf Den | Uncasville, CT, us | Find Tickets |
| | Madison Square Garden | New York, NY, us | |
| | Madison Square Garden | New York, NY, us | Find Tickets |
| | Madison Square Garden | New York, NY, us | |
| | Madison Square Garden | New York, NY, us | Find Tickets |
Click here for more tour dates and TICKETS