Ep.366 – Richie Kotzen @ Mercy Lounge – Nashville, TN – 5-16-10
Can I be frank?  I had no idea who Richie Kotzen was until a few weeks ago. I saw that he was coming to town, and thought, "Holy crap, that's expensive for a Mercy Lounge show!"  I went to his website and thought, "Holy crap, this is a REALLY nice website."  I read his bio and thought, "Holy crap, he has 20 albums out,  was in Poison and Mr. Big…AND opened for the Stones?!"
It's clear that he has a lot of dedicated fans, but with such an impressive résumé I wondered why he wasn't more of a household name.  I mean, it can't be because of the old Rikki Rockett thing, right?  The 'bros before hoes' code isn't that strong, is it?
I was expecting '80s rock when I listened to the tunes on Myspace, but surprisingly, the dominant gene was a soulful bluesy rock. It's an interesting combination of styles that may sound dated to the younger listener, but being a product of hippies and an '80s rock fan  – I can dig it.
From the recordings, it's clear that homeboy plays the guitar something fierce, and has a smooth voice. The solos are so strong, they make the rest of the song sound like filler. I could tell that Kotzen's talents would translate into a killer live show.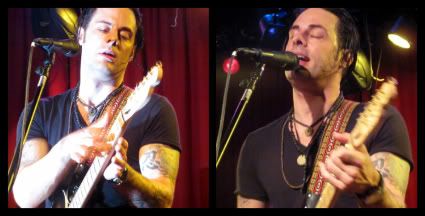 I was nervous for my interview with Richie.  For the most part, I'm a Top 40 girl – and this guy was going to see right through me.  Yet, he was totally cool, honest, and gave some great advice. Check out the interview
HERE
…especially if you are an aspiring artist.
The show was an eye-opener. A responsive and supportive audience filling half a room, means so much more than a sold-out venue pretending to be mildly amused with the performing band. Many of the attendees at this show traveled hours for this experience. Even Sass Jordan and John Corabi came out!
Overall, from my critical standpoint, I feel that Richie's lack of American popularity lies in the fact that he's missing the radio hits, but he is one of the best guitar players I've ever seen. I also think releasing some live tracks of this album will help push it.  I listened to some of Live In Sao Paulo, and to me, the production in the studio recordings strip away some of the magic of Richie's live sound.
Based on the songs I've heard, his interaction with fans at this show, and briefly meeting him, I sense that he is smart and humble guy, who's instincts have worked to his advantages and disadvantages. In the long run – he's doing what he loves for a living. Making the music he wants to make, and really, that's the goal, right?
Richie's latest release, Peace Sign, is available now at www.richiekotzen.com.
Richie Kotzen – Fooled Again (snippet)