Ep.368 – Dan Black @ The Roxy – West Hollywood, CA – 06/03/10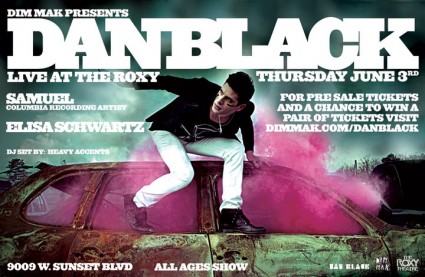 Prior to this concert I had only heard 1 song from Dan Black, "Symphonies featuring Kid Cudi," but that didn't stop me from enjoying myself at the show.
~ See Dan Black LIVE in Concert~
Dan Black laid down a lot of funky beats through out the show and in addition to singing he also worked the bands drum machine and beats. He was accompanied by both a guitarist and a bassist who both had a lively stage presence.
I would have to say the most entertaining part of the show was was watching Dan. He was very wacky and theatrical, plus he knows how to work a crowd. Even at points in time when the crowd wasn't entirely into the show and going crazy, Dan was still giving it his all.
It was surprising to me that a good portion of the crowd seemed to be in their teens and knew almost every single word to every song. That is always a good sign for an international artist when they hit the states and would lead me to believe he will be gaining more and more fans here in the next year.
I would go see Dan Black again but do hope that he incorporates a live drummer and a keyboardist into his stage show. -lorn
~ See Dan Black LIVE in Concert~
Special thanks to Bryan Linares and Dimmak events for setting us up to come cover this show, and as always to The Roxy for being so hospitable.