Ep. 371 – Bonnaroo 2010 – Manchester, TN – 6/10 to 6/13

A quote from my sister over the weekend pretty much sums up how I feel about this year's Bonnaroo experience: "I'm sad it's over, but am so happy it happened."  The name says it all. What does Bonnaroo mean, anyway?  It means "a really good time." Thanks Wikipedia!

Overall, I may have enjoyed 2009 Bonnaroo better, but the fact that I got to bond with my little sister made up for the longer lines, intense heat, and less exciting line-up.
I moved around a lot this year, and found it really hard to find good viewing positions at the stages. If you've ever been to a show with me, you know that I'm annoyingly determined to find my way to the front. That just wasn't happening, and I was lucky if I could even see the artists on stage. After a day of tiptoeing through a maze of people passed out in mud, I noticed that I always found the best spots on the left sides of the stages. It's worth the trek once you get there.
My plan this year was to watch half sets and see as many bands as possible, which ended up being overkill. I suggest choosing a band, finding a good spot, and sticking it out – even if someone else you love is playing somewhere else. Sometimes making your decision strictly on instinct and recommendations works, so don't feel like you have to stress yourself out beforehand researching every band on the bill. Many times, you'll be able to see what you missed at a solo show down the road.


I read in the daily Bonnaroo rag (which is such a great way to start your day, by the way; recap on what you saw and find out about what you missed) that Wayne Coyne of The Flaming Lips said something about not wanting people to walk away from the festival talking about the bands, but focus more on the experience they had.  Sure it's a music festival, but that's just the heartbeat. So many other factors come into play at Bonnaroo. For instance,  the hilarious "Bonnaroo" chants, like "When I say 'Bonna,' you say 'Roo,'" and people participate without hesitation! Sharing water straight out the bottle with complete sweaty strangers,  hugs, high fives, bare boobs, drum circles, etc; it's total bonding time with your generation and your Bonnaroo "class" as they call it.  Speaking of bonding, how is it that among 70,000 people you can unexpectedly bump into people you know numerous times? Boggles my mind.
With Coyne's statement in mind,  I'm going to buzz through the show reviews, because honestly, you can see the acts for yourself online (YouTube Channels bonnarooblogs and buriedvoid have good stuff).  Nashville Scene's Cream Team put together some amazing coverage with dynamite write-ups on the shows.
Here's kind of how it went down for us.  Events may be a little out of order, but that just shows you how your brain functions the week following the festival.

We picked up our tickets at Fantasy 101.5, and made our routine stop at the Rite Aid so I could pick up my body spray that lasts me all year.  We then took our magic route that takes us to our campsite in under 30 minutes once we're in Manchester. Seriously, no traffic.  Find the KOA campground, go past it, past the back Bonnaroo entrance, and then take the next left.  Signs point you to the security gates.  It's a bit of a walk to Centeroo, but with all that drinking and partying, a little exercise will do you good.  I lost 7 pounds over the weekend.  Best crash diet ever.
We set up camp and made our way to the arch. Let the bands begin: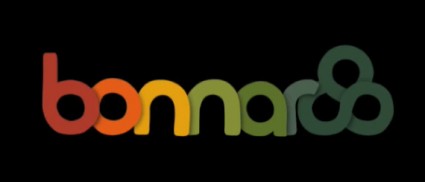 Edward Sharp and the Magnetic Zeros – Great way to start the festival; relaxing on the outskirts of a happy and fun-loving crowd preparing for a weekend of chaos. We caught our first person peeing in public here – a female popped a squat in pure daylight. Rock on lady!
Tenacious D – After exploring a bit and finding our bearings, we made our way to Tenacious D – and it was mint. God, they sounded good, and so funny! I envy those folks on the side stage and bleachers.  How do you score those seats? VIP?
Steve Martin & the Steep Canyon Rangers – I've been wanting to see this for months.  Very upbeat, fitting for the southern sunset, and a surprise visit from Jack Black!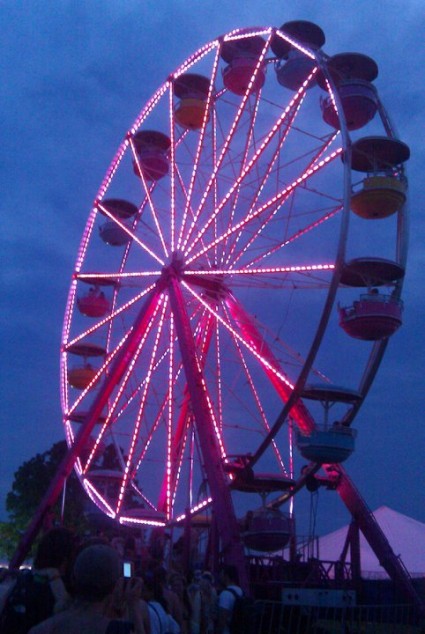 We ate some dinner, wandered around checking out the Ferris Wheel and Cinema Tent,  and proceeded to do some "prep" for our late-night plans.
Before we knew it, it was time for the midnight Flaming Lips show. It was the eyegasm I expected. I adored their first act of original material, but like Guy (see his excerpt below), I wasn't feeling the Dark Side of the Moon cover after the intermission.  The distortion took a lot of the beauty out of the album. We waited to see if the rumors of balloons filled with real cash being sent into the crowd during "Money" were true. They were, but we didn't benefit from it. We left after that to see a little of Bassnectar, but ended up tent-hopping and then walking back around 2:30ish.
The first show we saw on Saturday was The Melvins around 5:00.   I haven't got a clue why we didn't catch Jimmy Cliff or wait in line for Conan. Just being lazy, I guess. In our defense,  it is REALLY hard to sleep at night due to dance music blasting 'til dawn. So, we charged our phones at the media tent in the morning, and then headed back for naps and cocktails.  The Melvins were powerful with a full, yet dirty sound that was so different from everything else I had been hearing. So glad I saw them.   I had an interview with Buzz and Coady from the band earlier in the day, and it sounded like Buzz might be in trouble with the law.  We hope everything went okay at the hearing. (or maybe they were just f**king with me)
Weezer was up next. Seen 'em before, love 'em. You should see 'em. Rivers rocks! Funny moments with this show – dude sliding out of control down from his spot in the tree and Julia Nunes coming out to play with her ukulele out of tune.  Oops.  She handled the embarrassing situation well though.  I appreciate a tough skin.  Must be all that YouTube fame.
We saw some of Stevie Wonder's show from the mainstage before moving to our remote location, lying comfortably in the relatively vacant Which Stage lawn. Seeing all those bodies gathered in front of one stage, and knowing that he couldn't see all of them got me thinking – what is he picturing in his mind right now? A man with a voice like no other and a glow of love and positivity; we are lucky to have him. I hope to see him again someday, preferably at the Hollywood Bowl.  I wasn't a big fan of the sound from the back of the Which Stage lawn throughout the festival, but hearing "Superstition" travel from the always sonically-pleasing What Stage to my ears was perfection. A special moment to add to my "impressive concert memory" arsenal.
Jay-Z was pumped that Wonder stuck around for his set, saying something to the effect of, "I can't wait to tell my mother."  Shout outs from Jay-Z were also given Jack White, Rick Rubin, and someone sporting a sign or t-shirt that said "What Would Jay-Z Do."  He was loving the night, and I could feel his energy from 30,000 people away.  It was clear everyone else was too – including the hot mess of a white trash couple in front of me dirty dancing with glow sticks and thong-ing it up.  What can you do? I got two shows. One terrific and one terrifying.

I tried to hang on Saturday night, but honestly, I just couldn't.   Dan Deacon Ensemble confused the hell out of me, and we lost our guide book at some point.  We went back to camp, and woke up every 30 minutes to  DJs and the screams of the all-night party. Our alarm was a wind-down to what I think was a Timo Maas set just as the sun rose at 6:00 AM.  It was kind of nice actually. You felt there, but not.  I just wish I had that energy to actually kick it with the kids.  It was amusing to watch the people who just woke up stumble to the bathrooms while other folks soaked in GWAR blood and glitter made their way to bed – all clashing into each other on the same dirt road.

On Sunday, we made a stop at Troo Music Lounge to catch a bit of Nashville's own Caitlin Rose.  Rose was one of the winners of the Road to Bonnaroo contest held at our fave hang (Mercy Lounge) every year. Her voice is crystal-clear with a slight twang of an indie southern angel. Next, we listened to Lucero from the shade of a big tree, eavesdropping on stories and making a mental quote book.  We saw a little bit of Against Me!.  Great band, but the heat was too much.  We grabbed a frozen lemonade and found a seat for Ween. Ween is a band that I've been dying to see for years, and sadly, I was disappointed with the sound, but as I mentioned, I wasn't thrilled with the sound from the back of the Which Stage field for any acts I saw. I will make it a point to see Ween again, as I'm not ready to give up on them yet. Nope.

After 'Voodoo Lady,' we went to catch my hometown boys, Dropkick Murphys, another band that was just so different to the Bonnaroo mix.  With the Celtics in the playoffs, this was PERFECT!  The energy was insane, and gave me chills.  When I found out that bassist, Ken Casey, had to cancel our interview due to heat exhaustion – I didn't question it for a minute. (Even if the Celtics game was about to air.)  A lot of bands were mentioning how they planned on going backstage after their sets and dying.  This didn't help us poor patrons forget the hellish heat at all.
We gathered some interviews, and headed to my dream BFF's tent.  Miranda Lambert – Awesome way to end the festival; that girl had been working her ass of all week during CMA Fest, and took the time to hang out with all of us (as my friend described the '10 Bonnaroo class in a Facebook status) "wannabe hippies."  This girl is so natural, but tough.  Her songs are strong, witty, and humorous.  She's got charisma, and a pure country voice.  Love her to pieces.
And then we headed back to reality…sad it's over, but so happy it happened.

Shoulda, Woulda, Couldas: GWAR, Daryl Hall & Chromeo, Thievery Corporation, Deadmau5, Conan O'Brien, Margret Cho (how did I miss her between numerous guest appearances and three or four comedy slots?), Zac Brown Band, LCD Soundsystem, They Might Be Giants, Ingrid Michaelson, and Dave Matthews Band when the lanterns floated into the sky, and a Thursday arrival so we could catch Non-Commissioned Officers. The press tent also gets some great artists to come in and meet with the media.  I am totally going to take advantage of that next year. Finally, the Alice + Olivia fashion Airstream in the VIP area looked like a fun pit stop.
Bummers: Last year I could just walk into the Cinema Tent, Silent Disco, and Air-Conditioned Fuse Barn when I felt like it. This year, the lines were ridiculous. Wha' Happened?!  The cellphone recharge tent didn't work either of the times I went.

Pointers: Bathrooms are clean in the early morning. Booze it up at your tent – beers are expensive! Bring at least a gallon of water with you a day or a camelpack. I probably shouldn't say this, but if you're a drug dealer, sell mushrooms -everyone's looking for them. hahaha! Bring good snacks like grapes and trail mix – not "Hot & Spicy Cheez-Its." We learned the hard way. And yeah, c'mon, don't bring your kids to Bonnaroo.
Bonnaroo through Guy's eyes:
If there are two words that can sum up this years Bonnaroo, it would be "Hot" and "Crowded-as-fuck!" (1 word really didn't justify).  Before I get into the positives, I would like to take some time to point out the negatives with this year's 'Roo fest.  First, it was extremely hot.  Not only was it in the mid 90′s, but humidity was present making the heat index in 100′s.  The people to tree/tent ratio seemed like 5,000 to 1.  Even at 9 am, finding shade was like striking oil in your backyard.  If there is one thing I can suggest to the people at Bonnaroo, it would be to add more tents and/or free ice cold water.

Seriously, a dude died.   I feel it could have been avoided by those two things.  The other negative was the line-up wasn't as strong as it was previous years (or at least I think), but somehow the people were flocking.
But, I didn't let those 2 things ruin my trip this year.  In fact, I had a great time!  The highlight for me, was definitely The Flaming Lips.  I wasn't big on the whole Dark Side of the Moon cover (although it was an interesting take), I was diggin' their original stuff.  Their live show took my "average occasional listener" fan status to an "I want more" status.  Balloons, confetti, a huge hamster ball-looking-thing and a color show that would give any average Joe a natural acid trip.  Kudos to The Flaming Lips.
Other than them, I was also excited to finally get to see Stevie Wonder.  Man, that guy wrote some great songs.  He kept pumping out jam after jam.  Stevie is definitely up there on the "List of People To See Before They Die."  I already missed out on Pink Floyd and was about -3 years too late for Led Zeppelin, but Stevie, check!  Ween would have to be my third favorite, just because I love Ween.  Didn't even see the whole set, but that's okay.  Honorable mention would have to go out to The Melvins, Weezer, Jay-Z (who was way better than I was expecting), Tenacious D, Jeff Beck (only caught a few songs, bummer), Dropkick Murphys, and that DJ who had a 24-hour (or what it seemed like) set on Shakedown Street.  They must have been feeding him the good drugs!
Click Here for a Bonnaroo 2010 Playlist from Better Propaganda