Ep.377 – Hole @ Cannery Ballroom – Nashville, TN -06/29/10
I don't know if I'll be able to get into the Hole show tonight at Cannery Ballroom, but I want to, because I like Courtney Love. Yup, I do. I can't pay $35 to see her, and I don't own all her albums, but I can say that I proudly participated in a high school talent show performance of Doll Parts/Jennifer's Body, which everyone in my hometown remembers. The video is humiliating, due to my destructive vocals, but I like to think it sounded better in person.
Anyway, I've been getting links to horrible reviews, interviews, etc – but Love is a part of my adolescence. Plus, anyone that can take that kind of beating by others and herself, and keep going strong…well, as hard as it is to say that you admire a recovering drug addict, but there's something about that "made my bed, I'll lie in it" attitude and drive that I look up to.
She took the hard way, but committed, and is still living for herself and her daughter.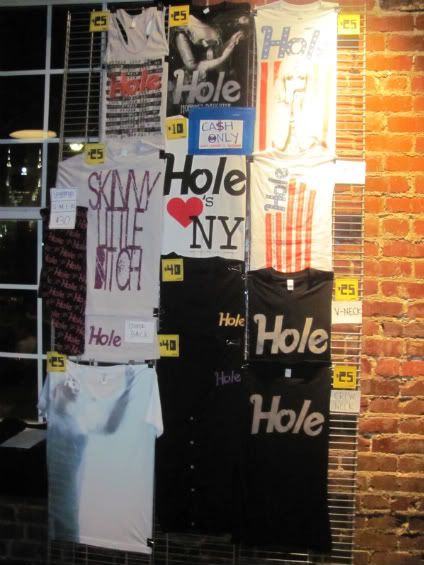 After watching her Behind the Music this weekend, which was the best one I've ever seen, the one question I would ask Love is "what is your biggest fear?" Other random thought…did anyone notice a physical resemblance between Courtney and Britney?
After the show:
Thanks to a sweet little thang named Renee, I was able to get into this show on my budget, with a few bucks to spare for refreshments.
While shaking people down for a ticket, I met some cool guys outside who had great things to say about Foxy Shazam – a band I really wanted to see, but couldn't get my act together in time. Dudes went as far as to say that Foxy is in their top 5 rock bands. After seeing a full-size cut-out of Robert Pattison modeling at their merch table – I was downright sad that I missed them. Next time.
Courtney – she started late, but that was expected. Who cares? Don't you love how "Hole" = Courtney Love? It's Love that people pay to see, not necessarily the band. She was actually charming. Okay, charmingly feisty; nothing at all like what I read in the Washington Post review. I was totally into the first 30 or 40 minutes of the show, a couple covers including The Stones' "Sympathy for the Devil," and NIN's "Closer," some soft-core friendly heckling at the crowd, some new songs and some older gems, but I'll admit, it went in and out of holes (no pun intended) for the rest. However, that's a normal occurrence. I rarely see shows where I'm completely enthralled the entire time. 
In my opinion, Hole does NOT suck. Do they hold a candle to the musicianship here in Nashville? Can't say that. Does Love have more character than most of the performers I've seen her? Absolutely; and to me, character plays just as much of a role in a music career as talent. She has her own sound, and the woman has style. Seriously, what happened with that clothing line she was going to put out? That's where I'll spend my money.
I do think the tickets were a bit expensive. I'd pay $20, and I'm sure that would've filled out the room more. I guess I secretly wanted to see the bitch come out, but it didn't – and that's okay. Even deeper down, I'm happy it didn't. You don't want to piss off the people that pay you.
Finally, yeah Cannery!  This was the first big show where I could find a spot to see and wasn't perspiring. You're growing on me Cannery, you are…wink, wink.
Favorite Love Quote of the Night: "If you don't cry on this one, I'll eat your tiara."
What would have made my night?:  My cousin Lorelei by my side (we are due for a concert date, and this would've been ideal). Also, a cover of "You Know You're Right"  (my favorite Nirvana song) would've been radical.
Admit you're intrigued by her, put in the effort, and see Hole!
Nirvana – You Know You're Right  (Just 'cause)