Ep.378 – Jane's Addiction @ The Roxy – West Hollywood,CA 07/02/10
Who rolled the dice and came up lucky? Everyone who went to the Roxy last Friday night – that's who.  We all got to see an intimate performance from Jane's Addiction.
I was on the fence about checking out this show simply because everyone was talking about it, and there really wasn't very much information about it. I had seen a tweet via @TheRoxy about the show and knew Perry Farrell and Dave Navarro were giving away tix via their twitters / @Perry Farrel /@Davenavarro6767 . Other than that, I really wasn't sure.  I had seen some rumors about the show being free, and others about it having a $30 price tag.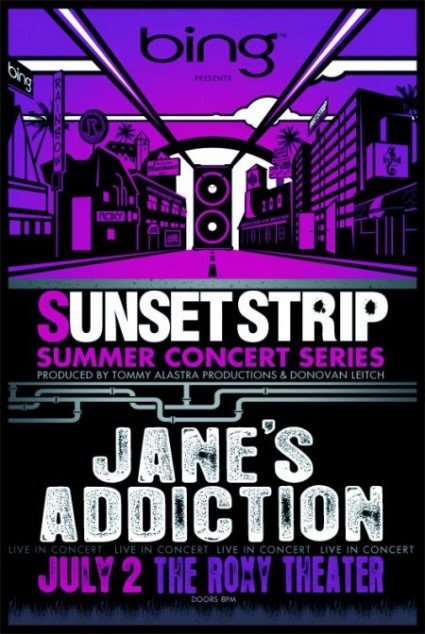 I was stuck at my desk all day imagining the swarms of people waiting outside The Roxy to get into this show.  Finally, I decided to go for it.  I knew that if I didn't at least try to get into this show, I would regret it for a long time to come.
I met up with Bryan, and we made the journey via the #4  Santa Monica (The cost to ride the bus went up a quarter and now costs $1.50) to San Vicente and trekked up the hill to the Sunset Strip.  When we arrived at The Roxy, there was about 80 people standing in line.  It was late, so I figured the odds of getting in were slim.  We stood on the street for a bit asking people for extra tickets.  Having no luck at all, we heard someone say that they were letting everyone in line in.  We started to walk towards the line when we ran into Nic Adler. I asked him if we could hop in line and he said "go for it."  Once we got to the line we started chatting with Neil and Mary, two cool fans who had just found out about the show about an hour beforehand.  They confirmed that the show was free.
As the line started to move, I became more and more excited.  I had already seen Jane's Addiction twice but never in a venue the size of THE ROXY!  We finally made it to the door.  I began to walk in when Nic Adler told the security guards "No, not that guy.  He can't come in."  My heart sank. I was in shock! I didn't know what to say, and I am fairly sure that my jaw dropped.  I looked back at Nic as he walked away, waiting for him to turn around. He finally did, with a big grin on his face and said I was all good!   (I was cracking up about that one all night.)
Almost as soon as we walked in, the show started.  A dancer took the stage and began to prance around. She suddenly stopped and began to pull out large needles and shove them threw various parts of her body.  She was joined by another dancer.  They then both had hooks that were connected to ropes attached to their backs. They were swung from the ceiling as Jane's Addiction took the stage and busted out  "Whores."
These guys were on fire! I have to say that after seeing them live they put their recorded material to shame.  They are all beyond exceptional musicians.
The thing I enjoy most about seeing Jane's Addiction is that you can just sit and listen to each of the members individually and be blown away. For instance,  hearing Dave Navarro tear up the guitar and plays it heavier than you have ever heard it played before, or having Stephen Perkins bust your eardrums via his heavy hitting drumming. (The vast majority of the people we spoke with were the most impressed by Perkins.); maybe watching Duff McKagan (formerly of GNR and Velvet Revolver; now, the newest member of Jane's Addiction) slay the bass guitar and rightfully stand on his thrown as a rock legend, and last, but not least Mr. Perry Ferrell putting on the show we all came to see.  There are just so many dynamics to this band. Its astounding!
I hope this post wasn't to long-winded, but I had a great time and definitely feel privileged to have caught this show.  If you are a fan and haven't seen them yet, you need to check them out.  If you are just a fan of being rocked, I highly recommend that you check them out, as well.  Thanks to Jane's Addiction for playing this show and The Roxy for being the host.
And one last thing, make sure you follow all the venues of the Sunset Strip on Twitter (@theroxy, @theviperroom, @Key_club), because I have got a feeling they are going to be announcing a lot of secret shows over the summer.