Ep.379 – Adam Lambert @ Ryman Auditorium – Nashville, TN
I went from "meh" on Adam Lambert to "Team Glambert" in less than 24 hours. I haven't followed American Idol since Taylor Hicks won; nothing against Hicks, I just lost interest. My family, however, has outlasted Brian Dunkleman (remember him?), Paula Abdul, and, now, Simon Cowell. They love it to the point of recording the show and watching performances 2 or 3 times. This year's Nashville audition (July 17th) will be my sister's 3rd time trying out for Idol. Rock on, sis!
Anyway, my father pokes fun at everyone. Normally, Lambert would be a sitting duck; so, when my dad started raving about Lambert, I decided to see what was up. I can't say it was love at first sight/listen. In fact, an embarrassing amount of time went by when I thought "Whataya Want from Me" was a Toni Braxton comeback single. No lie.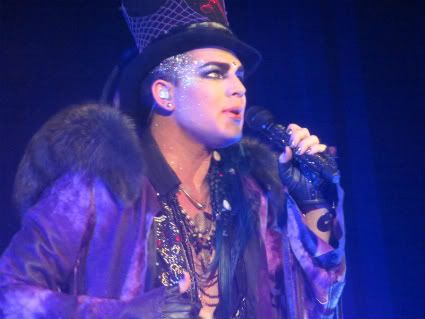 Doesn't matter, I still wanted to see him in concert. When I heard he was coming into the radio station building where I work, that's when I got excited. I hung around 107.5's performance garage waiting for the fans to clear so I could get my picture with him. He was crazy beautiful up close.
That sealed the deal. I needed to go to the show, and as I willed it – like magic, my ticket angels provided.
I made it to the Ryman Auditorium during Orianthi, who tore up that guitar. I think she needs to slyly move away from the pop songs, and redirect her sound to the Rainbow Room glory days. Please, oh please, bring that glitter rock/hair metal sound back!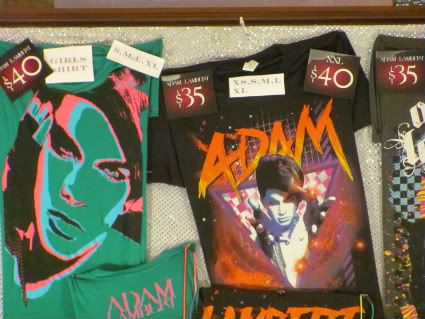 The upstairs lobby was packed with people waiting in a roped off line to buy $40 Lambert t-shirts and other memorabilia. Usually, I'm the only one rocking fake eyelashes, but this night, people were all done up.
Idol contestant shows are fun, because you get a grab bag of people, and Lambert attracts the party types. He ran the Ryman like I haven't seen before. The first few songs were blistering with lights and fantastical splendor, like a PG Marilyn Manson or Cirque Bezerk show.
You usually get the bare bones of the artist at a Ryman performance. Just as I started to think that the effects might be too heavy for the venue, Lambert addressed the audience and described the sequencing of his set list by emotion. He began a stripped down set, including "Whataya Want From Me," which I was stunned by. Wait, he's going to sing the big hit six songs into the show? Ballsy! But then again, I was filled in by some fans on the popularity of "The Glam Bulge." I'll leave it at that.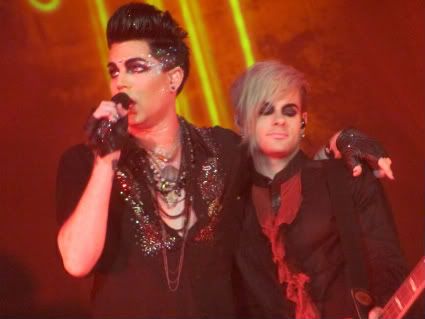 During this section, Lambert sang "Soaked," written by Muse. I detected a lot of Matthew Bellamy in Lambert's voice, but this song was where Sarah Brightman popped into my head; clear, ambient, classical tone. That's when it all clicked, and I understood Glam Nation. Underneath all the seduction, snappy garb, and showmanship (CHR essentials) is a true talent that is difficult to mock. It's clear that Lambert was destined for a musical career, and can succeed in any format he decides to tackle whether it be Pop, musical theatre, or singing lead for a Queen tour. Can someone make that happen?
The rest of the concert played out beautifully ('Strut' was another favorite), and afterward a large crowd of audience members stuck around, waiting patiently outside for Adam to make his way to the bus. Me? Well, I strolled back to my car looking at my picture with Adam taken earlier at the meet and greet, with "It Was a Good Day" by Ice Cube playing in my head. Because, it certainly was a good day.
Visit On the Meaning of Adam Lambert for a great post on this show with videos, pics, and Tweets from the night.  Also, www.1075theriver.com has some pictures and interviews from Adam's station visit.