Ep.380 – YES w/ Peter Frampton @ The Greek Theater – Los Angeles, CA – 07/09/10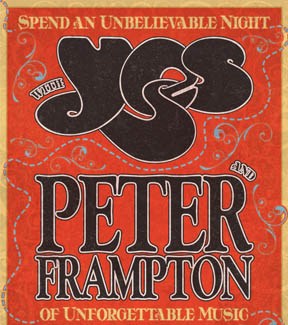 I wasn't exactly sure what to expect from this concert.  I mainly went to see Frampton and knew absolutely nothing about YES.
YES w/Peter Frampton @ The Greek Theater
Video Concert Review
Frampton was more spectacular then I had expected. I had high hopes for his performance and was not disappointed. He had a fantastic banter with the crowd and made it more then apparent that he was there to rock. It's always such a pleasure to see someone of Framptons caliber play the guitar in a live setting. Its almost as if he singing threw the guitar. The highlight of his set, and probably the coolest thing I have seen this year, was his cover of Sound Gardens "Black Hole Sun"

If I hadn't attended this show with some friends that were YES fans I probably would have left right after Frampton. That would have been a big mistake.
Although I'd only listened to one YES song prior to this concert ("Owner Of A Lonely Heart"), I felt as though I was taken on a magical journey through time and space. The entire concert seemed very voyage-istic to me.
One thing that made me semi-skeptical about the show was that the original lead singer (Jon Anderson) was no longer with the band. He had been replaced by Benoît David. Although I had nothing to compare Benoit to, I thought he did a fantastic job and should not be a deterrent from seeing YES.
Yes @ The Greek Theater 07/09/10 Setlist
Tempus Fugit (w/ Intro)
Yours Is No Disgrace
And You and I
Perpetual Change
Mood for a Day
Clap
Close to the Edge
Roundabout
Encore:
Owner of a Lonely Heart (with Trevor Rabin)
Starship Trooper
Final thoughts: I wish I knew more of YES' music prior to attending this concert and would def like to see them again. The YES/Frampton package is worth the money and one hell of a tour! If you are a fan of either of these bands, or simply just enjoy listening to skilled musicians, I would recommend checking both of these artist out. -lorn