Ep.382 – Scorpions @ Bridgestone Arena – Nashville, TN
Yay for the 80's and arena rock shows! Scorpions blasted Nashville with their "Get Your Sting and Blackout" farewell tour on July 10th, with opener Ratt. Due to some ticket issues, I missed Ratt, including one fan's shout from the crowd before they came on – "ROUND AND ROUND, MOTHERF****ERS!" People need to stop telling me about classic hilarity that I was not present for. Thanks for rubbing it in, Kells.
Photo Credit: Mike Bandow / www.hollywooddolls.net
However, Mike Bandow, a very talented photographer and huge Scorpions fan, was in the photo pit, and was nice enough to contribute some pictures of the show and share his thoughts on the few songs he heard from Ratt's performance:
"Ratt was in town to promote the new 'Infestation' album and open the Scorpions show.  They proved they can still deliver the Rock n' Roll! Warren DeMartini opened the show alone in the spotlight with the rhythm to 'You're in Love.' The man was on fire! It was 1985 all over again.
The band was in top form and looked like they were having fun. Next up, was 'Lay it Down.' Stephen Pearcy is probably still recovering from his hernia surgery, but moved around the stage as well as expected, and sounded really good.
Warren handled most of the leads and Carlos Cavazo took care of most of the rhythm guitar work. Bobby Blotzer and Robbie Crane rounded out the drums and bass section. The last song before my photo pass expired and had to leave was 'I Want a Woman.' It was equally as impressive. I've seen Ratt a few times since the 80′s. Ratt is not Ratt without Stephen in the band. I loved what I saw and heard. "
Photo Credit: Mike Bandow / www.hollywooddolls.net
After an hour of borderline jokes and concert stories in the media holding room (actually very entertaining), we made our way to the front of the stage. The venue looked a little bare, holding about 4,000 people, but those 4K were ready to party. The lights went down and the drum platform rose up into a large tower with metallic blinds of some sort covering it, white light shining through the slits. I suppose it must have looked cool from the back of the room, but I couldn't see drummer, James Kottak, until he stood up and leaned over his kit. When I did get to see him, he was one of my favorites to watch.
It didn't seem like the crowd size had an effect on the band, because they were vivacious; running around, covering the territory and striking fierce stage faces and poses. You know, the kind of faces that say "Is this want you want? Some of this Rock n' Roll, right here?! F**K YEAH!" I didn't want to leave that catwalk, but alas, our allotted photo time was up.
Miracles happen, and I got a pit ticket for the rest of the show, which is the place you want to be at this concert. Plenty of breathing room, and top-notch people watching. There's this guy around town that has a face tattooed on the back of his shaved head, and the mouth is a skin crease on his skull – he was there (and turned out to be a nice guy.) I guess he wasn't planning on coming, but he was hanging at a nearby bar, and someone handed him a backstage pass. Score!
There was a couple that I watched for a full song. The dude had a few and was in utter heaven, singing the lyrics to his girl with emotion, swaying – the works, just loving life. She seemed a little young for the Scorpions era, but kept propping him up and acting like she was mildly amused – being a real trouper. Now that's love!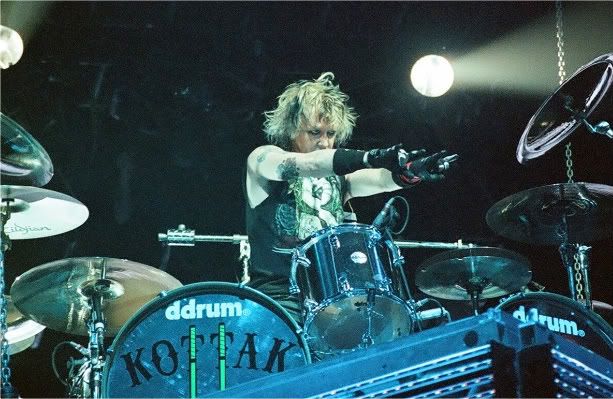 I stopped my audience observations as the drum solo started, a multi-media approach that I've never seen before. Kottak played simultaneously with a movie playing on the screens of him traveling through time via Scorpions album artwork. He finished the solo by taking a drink in sync with his character in the video. Then, the whole band came out, the guitarist wearing a mask of the guy on the cover of Blackout. An amazing touch for a farewell tour, and actually, on a whole, the show's elaborate production deserved way more eyes than what was in attendance.
I also loved how they incorporated video of downtown Nashville in Big City Nights. It must have been filmed earlier in the day, because the Bridgestone Arena marquee flashed current show dates. (Including Justin Bieber, August 11th – don't miss it!)  With Scorpions, going out with dignity is obviously more important than making money. This show was put together as a "Thank You" to the fans. They ended with Wind of Change, No One Like You, and Rock You Like a Hurricane, the knockout combination we all hoped for.
Big City Nights (Live) – Scorpions