Ep.383 – La Roux @ Club Nokia – Los Angeles, CA 07/15/10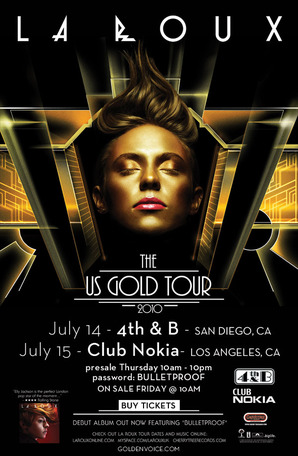 For the last month or so I have been hooked on the Major Lazer – La Roux Mix tape "Lazer Proof". I hadn't listened to any of La Roux besides that and was very excited to finally hear the voice that is so often sampled by the worlds leading DJs.
The show was sold out and it seemed as if everyone in town was at this concert.  We eventually scored tix via a few fantastic folks, including a pair from LA's own 97.1 AMP Radio.
We walked in about 2 songs in to the set and noticed something seemed a little off.  Elly Jackson's, the lead singer, voice was very scratchy and it seemed as if she was having a hard time singing.  The rumors I had heard about her being sick were true!
Nonetheless I had a fantastic time at this show.  The crowd was energetic and filled with beautiful women that were down to dance and have a good time.   I'd hate to sound like a total horn dog, but the crowd was def my highlight of the night.
La Roux & Major Lazer – Bulletproof  (Nacey Remix Ft. Hemerlein)
La Roux – In for the Kill (Live)
After this concert I plan on seeing La Roux again, although next time I hope Elly is feeling better and a bit more on top of her game.