Ep.386 – Dirt Nasty & Andre Legacy @ 12th and Porter – Nashville, TN – 7/23/10
Dirt Nasty & Andre Legacy @ 12th and Porter
video concert review
Dirt Nasty & Andre Legacy @ 12th and Porter concert review
Oh, God! Dirt Nasty and Andre Legacy…I (legit) woke up the next morning with mud on my legs and feet and bruised knees. Really, bruised knees? The marks were from being smashed up against a speaker by the rowdy crowd. That's what you get for snagging a front row spot, but it just looks so wrong.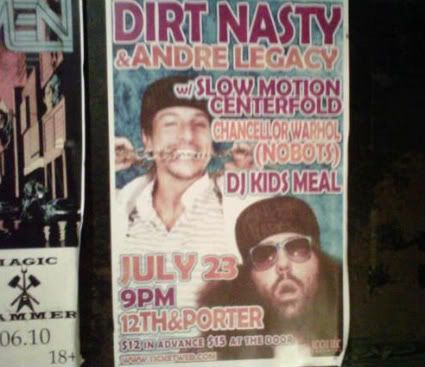 The show was opened by Chancellor Warhol and Slow Motion Centerfold. I was really feeling Chancellor Warhol – swagger, infectious beats, and I even caught a free tee! Japanese Lunchbox! The room finally got moving for Slow Motion Centerfold's instrumental dance pop. This band has many moving parts that coexist in a rock casing. Sublime jump into my head, but they are no where near a replica of the band, and I've read that Red Hot Chili Peppers are an influence. If you mesh those you get an idea of SMC's stylings…or you could just go on their Myspace page and classify it yourself.
So yeah, the crowd was roaring and ready, but also drunk and getting tossed from the venue by the time Dirt Nasty and Andre Legacy came on.
A fight broke out clearing a path to the front of the stage. Don't mind if I do! I was way too excited for these guys. I saw the new LMFAO video with Dirt featured the night before, and took it upon myself to make "My Dick" our Bonnaroo anthem this year. The guy rolls me, and he's smoking hot – my latest celeb obsession. Besides that, he makes me feel better about being a party girl at my age.
Their set was short, but not lacking. I love comedy in raps and shows that tread on that line of party vs. performance. This tilted more toward party, much like an LMFAO club show. The drunken antics between songs were hilarious. People were throwing their prescription medication to Andre. Dirt Nasty was dry heaving, drinking Patron and Stella. (gag) Things got a little out of hand at the end, Dirt fell into the crowd and "lost" his phone, people crowded the stage (including yours truly), and I think some more people got kicked out for pouring water on Dirt Nasty's head. Nobody messed with Andre Legacy. Smart.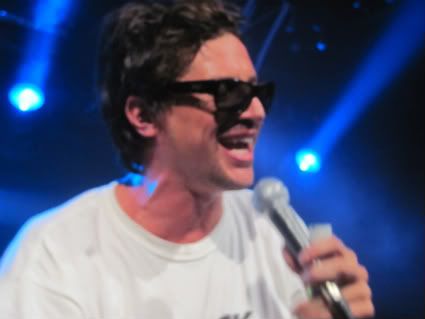 Even with all the craziness, the guys kept saying how much they loved us. Dirt Nasty's album comes out on August 10th, and features Andre Legacy, Beardo, Ke$ha, LMFAO, and more.
Which brings me to another point, the best thing about this group of Hollywood party emcees and DJs is that you almost feel like you're part of their collaborative crew. The keep their fans updated through Twitter with messages in their own voice, and when they're in town, they hang out with fans and don't put up a wall. Be sure to follow both Dirt and Andre on Twitter. Miss the show, and miss out on life. For realz.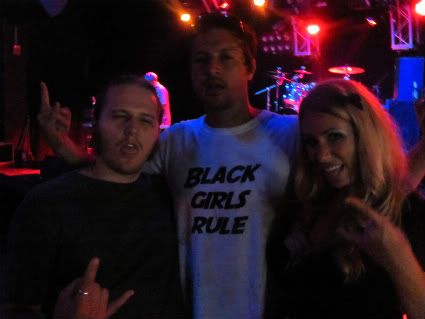 PS. Bummer of the night:  WHY DIDN'T ANYONE STAY FOR DJ KIDS MEAL?  You fools are crazy.  He's amazing!