Ep.388 – Paul McCartney @ Bridgestone Arena – Nashville, TN – 07/26/10
Paul McCartney's show ended with the famous line, "in the end, the love you take is equal to the love you make." Boy, does that sum it up.
I try to be a good person; encourage people, show thanks, and help others when I can. When I got word that I could shoot a couple songs of the concert, I thought "I must be doing something right."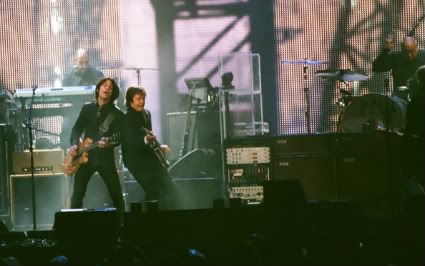 I sent Guy on a ticket mission. We had an $80 budget, and needed two tickets. Not good odds. Suddenly, the sky got dark and the rain started. A huge bolt of lightning flashed and cracked, and tornado warnings were issued on Davidson County. Guy took shelter while sirens blared, and the thousands of people grouped around Bridgestone Arena slowly made their way inside.
From WSMV.com: Here's a video reporter, Dennis Ferrier, took (outside the venue) during the storm before the show:

Rumors were that a tornado hit downtown Nashville, but I was assured by a certain science fan/photographer (check out his blog here) that it wasn't a tornado, but merely a "funnel cloud." Another friend then commented, "Yeah, big deal. A tornado has happened downtown before. This (motioning to the stage) hasn't." This event was so huge that the Country Music Hall of Fame brought some of their exhibits over to the venue for Sir Paul's viewing pleasure.
As we waited for the man to take the stage, remixes of his songs played and Faith Hill took her seat behind the soundboard. I swear, if she participated in foursquare, she would be the mayor of the venue. She's at everything!
McCartney was about 45 minutes late, but the sold out crowd was about to get 3 hours of pure "goldies." Before I knew it, our time was up, and we were out in the rain looking for tickets. We weren't the only ones, and scalpers were still selling tickets way too high.
It looked like I had a window of opportunity with some latecomers with an extra seat, but the woman wasn't going to sell her ticket for $40. A scalper snatched it up. Then, Zack, whom I call the magical mystery man, came up to us and sold us his unused seats – $40 for both. "I need some beer money," he said. The seats were originally $250 a piece. Great things are going to happen for Zack.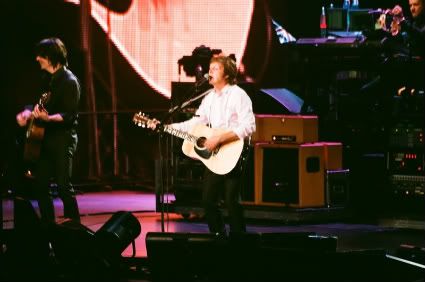 We only missed 5 songs, and took our seats during "Long and Winding Road." Everything was perfect from the set list to his quirky personality and suspenders. He's a great storyteller, and really who else has better stories than Paul McCartney?
At first I wondered why there wasn't a horn section, but I soon realized…less is more with Paul. I liked how the set didn't interfere with the show. Normally, effects would add to a show, but, for this, I didn't want anything getting in the way. There was the perfect amount of production. The acoustic numbers with the simple moon and Earth descending from the ceiling were breathtaking.
Top Memories:
* Look on Guy's face
* Zack, the Magical Mystery Man
* Drummer's dance moves to "Dance Tonight"
* "Give Peace a Chance" sing-a-long
* Paul making the arena scream, bark, and make ridiculous noises (just because he can)
* Little kid up on stage doing the chipmunk twist to "Get Back"
* Live and Let Die (I've always wanted to see/hear it live)
* Something (George Harrison Tribute)
* The dude with the "Still Pissed at Yoko" shirt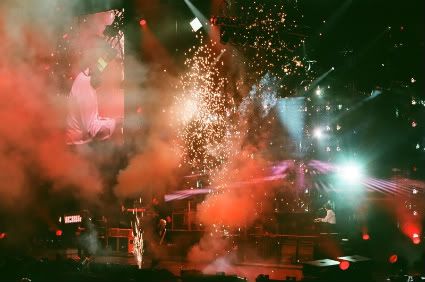 I shared texts with my mother throughout the concert, as she is a huge Beatles fan, and the reason why I love music and concerts. She said she cried when I held my phone up for "Hey Jude."
We left the show on Cloud 9, and decided to pay it forward showing a homeless man some love with our leftover cash (not much). When we got back to the car… $25 parking ticket – lot closed at 11. Shucks! Ahhhh well, worth it and we still feel very lucky. Maybe I needed to give a little more love to the homeless man to avoid that ticket, because "in the end, the love you take is equal to the love you make."
Looks like Paul has a YouTellConcerts concept going on himself. He wants your reviews and pictures of the "Up and Coming Tour." CLICK HERE for more info! While your at it, don't forget to comment with your favorite Beatles/Paul memories, thoughts on the show that you've seen, etc.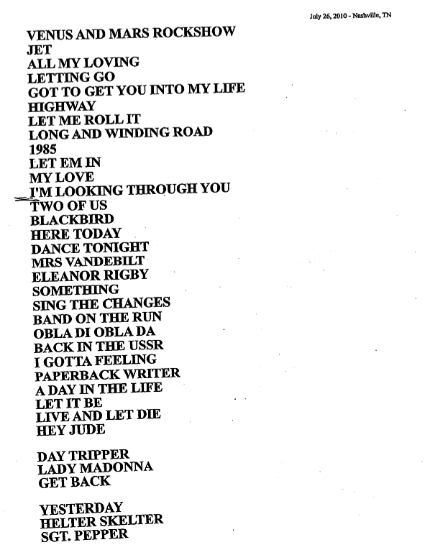 I didn't get a chance to interview Sir Paul, but this is basically what it would be like:
Paul McCartney – Dance Tonight