Ep.396 – The Chemical Brothers w/ Chromeo @ The Hollywood Bowl – Hollywood,CA 08/29/10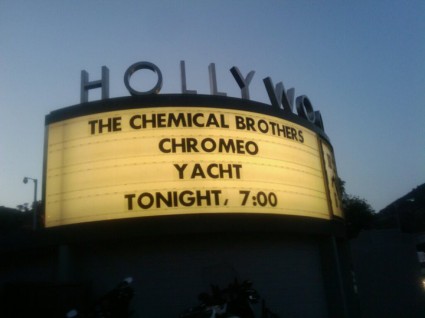 With Los Angeles cracking down on "raves," or more specifically techno music in general, we were truly blessed with the Hollywood Bowl and KCRW hosting this fantastic concert.
Yacht opened this show.  Having seen them a few times in the past, we opted to arrive to the show a little bit late. When we arrived, Chromeo had already taken the stage and had gotten the crowd into a dance frenzy.
These guys always seem to bring the party (so to speak) with fresh and funky beats. The most exciting part about this particular show for me was that Chromeo was performing material off their forthcoming album "Business Casual," including their new single that is beyond catchy – "Don't Turn The Lights On."  The majority of the set included older songs including "Fancy Footwork," "Momma's Boy," and "Bonafied Lovin."
I have to say, it was pretty damn cool to see these guys rock a venue as large and prestigious as the Hollywood Bowl. The only complaint I have about Chromeo's set is one that I am sure everyone who was at this concert would agree with.  It was too short. I know they were the opening act and all, but they no doubt left everyone wanting more.
Next on deck was The Chemical Brothers in support of their new release "Further". In all honesty,  I had not listened to a lot of The Chemical Brothers prior to this show. I had seen a few videos from some of their live performances over the years, and was excited to see these guys get down.
The Chemical Brothers have been iconic in the dance music scene since the early 90′s. After seeing them perform live, it is obvious why. Not only do they provide mind-bending beats, but also a bring a larger than life visual display to the table. The combination of the two elements is infectious.
One of the coolest things about this show was the variety of ages that were in attendance. The Bowl is one of those venues where an older crowd 50+ will come out to a show simply because it's at the Bowl; regardless of whether or not they have heard of the artist.  I expected a good portion of the crowd to leave when The Chemical Brothers came on, simply due to the dance nature of the music.
I was wrong. The oldies were jamming out and stuck around until the end of the show. I hope they realized this is the type of music and experience the younger generation is enjoying at raves and massives, and that the events aren't about doing drugs.
The Chemical Brothers entertained us for a good hour and a half before having to call it quits because of the Hollywood Bowl's 10pm curfew.  The Chemical Brothers experience is one I hope to be able to enjoy sometime in the near future and one I can feel safe in recommending to music fans of all ages. -lorn