Ep.398 – Interpol @ Space 15 Twenty – Hollywood, CA 09/07/10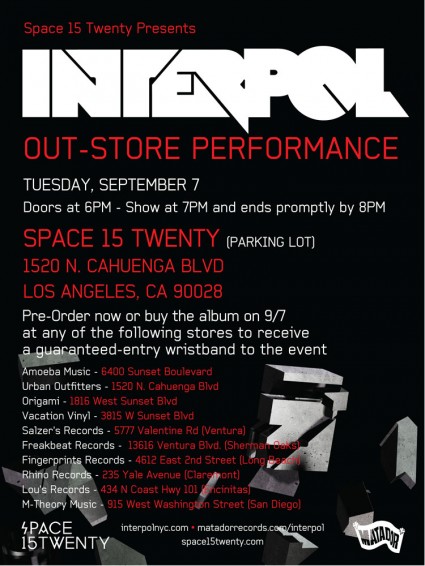 Boy oh boy was this a special show! This performance was in celebration of Interpol's 4th studio album "Interpol". The show was free with the purchase of the album and took place in the parking lot of Space 15 Twenty, a small retail center on Cahuenga Blvd in Hollywood, CA. I had actually forgotten about this show until the day of when a friend hit me up asking me if i would like to go. I figured even if i wasn't able to get in to the venue I would still be able to jam out to Interpol on the street and that was def worth my time.
When I arrived at the Space 15 Twenty parking there was a line of people standing on the side walk. I assumed they were waiting to see if they would be able to get into the show. My friend Molly asked the person standing guard at the gate what the deal was and was informed that only KCRW members and those who purchased the album would gain admittance. Me being the resourceful fellow that I am decided to start asking for people walking around if any of them had an extra wrist band. I eventually ran into Johnny who was not only kind enough to give me a wrist band but was also kind enough to give me a free copy of Interpol's new CD!
By the time I had made it into the show they were already about 2 songs into their set. This wasn't a problem what so ever, as the band ended up playing an hour long set that was comprised of 13 songs.
One thing that did shock me about this show was the fact that when the band left stage hardly anyone clapped or screamed for an encore.  I honestly couldn't believe the band even came back on stage. I am certainly glad they did, but the crowd was very LA and did not appreciate this performance nearly enough.
After talking with people after the show the over all consensus was that Interpol sounded fantastic live and was equally good as their recorded material. Carlos D will be missed, but the band still rocks and Interpol is def worth catching live.
I look forward to seeing these guys again and strongly suggest seeing them if you are a fan of their music.   They will not disappoint.