Ep.399 – Primus @ Club Nokia – Los Angeles,CA 09/17/10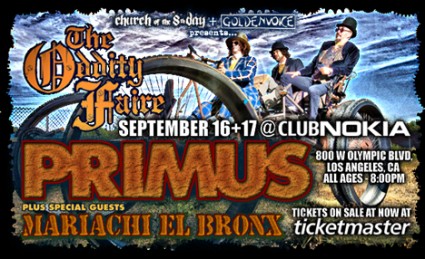 Wow! Primus at Club Nokia. I was expecting a complete and total shit show. First off, Primus is crazy. Second off, their fans are crazy.  Finally, they were playing Club Nokia.
In true YTC fashion, I misread the press release, and thought Primus was performing "Frizzle Fry" both of the nights they were playing Club Nokia. I was wrong. They played the album in its entirety the night before, as part of their Oddity Faire. None the less, I was excited to finally see these guys live.
When we got into the venue, our photographer (Cuzn George) informed us that last night photogs were only allowed in the pit for the 1st song due to crowd surfers, stage crashers and all-out insanity. He prepared for the worst, and was ready to get as many pics as he possibly could before he was forced to leave the photo pit.
Thankfully, the first 3 songs of the set were more mellow Primus songs. They opened with "Here Come The Bastards," then rolled into a cover of Pink Floyd's "In the Flesh."  They performed one more laidback song, "Duchess," before busting out "Those Damned Blue-Collar Tweekers."  As soon as they started Blue Collar Tweekers, the crowd went apeshit.
We thought it was very cool of Primus to start off with some slow jams, so the photogs would be able to get some coverage of the show.
The entire show was a trip with scary zombie clowns walking around on stilts, giant moonmen onstage, and Les Claypool  going through a plethora of mask and costume changes, and even playing obscure instruments.
Les Claypool def has a way about him and is hilariously insane to say the least. He was constantly messing with the audience and joking around.
His sense of humor is very bizarre, but entertaining at the same time. In addition to having a personality, Les is an above par bass player and no doubt one of the greatest alive and touring. It truly was an honor to see him jam it out.
Another thing I really dug about this show, was the large amount of drum solos. It kept the show moving and kept the crowd in a trance.
Final thoughts: Still bummed I missed "Frizzle Fry," but think it was very cool of Primus to play two different sets when they were in LA. The die-hards reaped the benefits. If you ever get the chance to catch Primus or Les Claypool, I would highly recommend it, as these guys are groovy and know how to get down. -lorn
Primus – In the Flesh (Pink Floyd Cover)
For more photos from this show check out our photo gallery - Primus @ Club Nokia