Ep.401 – Reba & George Strait @ Bridgestone Arena – Nashville, TN 9/11/10
My father loves himself some Reba, and growing up it was all Reba…all the time. We wore out her tapes, and then bought new ones. We watched a VHS of her best videos at least twice a week, and although I pretended not to be, I was totally into it. I still sing For My Broken Heart out of nowhere. It's forever in my head.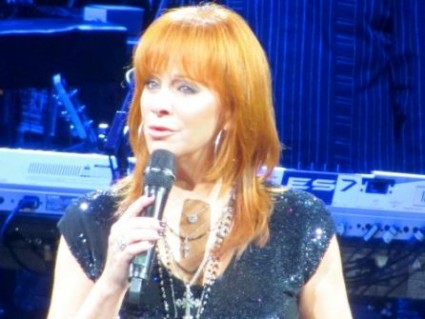 I remember when my family went to see Reba in concert, and I stayed home. What was I thinking? I've been waiting for the opportunity ever since. I've seen her as a guest appearance in a couple of live shows. I saw her get rained out at CMA Fest a couple years back, and I even met her at her album listening party (Thank You, Robin!); but I had never seen a full show.
Thanks (once again) to my pal, Robin, I finally had the true Reba experience. She sang everything from The Greatest Man I Never Knew to Turn on the Radio. I knew almost every song.

Melissa Peterman came on stage to help sing the show theme to "Reba," I'm a Survivor. She's such a riot. I could hang with her.
Lee Ann Womack sang on Does He Love You?; and  just days after the final Brooks & Dunn show, my dreamlover, Ronnie Dunn was back at the Bridgestone with Reba singing Cowgirls Don't Cry. Reba even sang Kelly Clarkson's Because of You, and the show kept on rolling.
Her backup singer was terrific. She didn't upstage, but wasn't afraid to dance, be natural and even get a little goofy at times. There was a bug flying around her head at one point, and rather than pretend it wasn't happening, she worked a clap and swat into her dance moves that made it a highlight moment.
For Reba's encore, the video to Fancy started playing on the video screens, and once the music started, a taxi appeared from the back of the arena headed toward the stage. Reba came out in a red dancing dress. I may have died for a second; killed by awesomeness when hearing the arena burst into the line, "I may have been born just plain white trash, but Fancy was-a my name."
I'm wish I saw her back in the day with the elaborate costumes and such, but I don't feel cheated at all. Had I seen her back then, I probably would have become a true country bumpkin way too early in life anyway.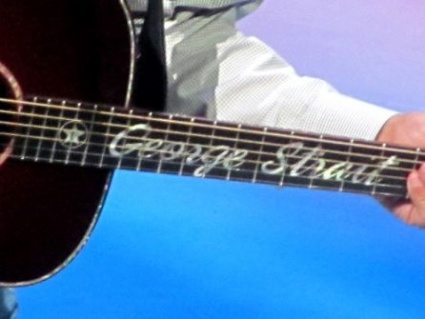 Maybe then, I would have been more excited to see the present day King of Country, George Strait. I was actually surprised when the crowd responded more to George Strait than Reba.  I was clueless to his importance in the format.
What a gift to see him in concert.  As my friend said in a text, "He makes Nashville look like Hollywood." He's a classy cowboy with one hell of a mosey and a smile. I didn't think I knew any of his songs, but I knew a good 5 or 6. Still an embarrassment in this town.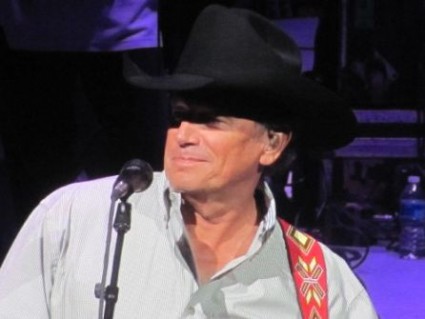 There was a new song of his that brought some sober tears to my eyes. It was called The Breath You Take. The lyrics, and the way he sang it; moving his lips and neck muscles in a way to give it a certain ring…heartwarming. Also heartwarming, the little kid in the pit seating  wearing cowboy hat doing "the sprinkler" and other dance favorites. (Oh, and equally as heartwarming, the grandpa groupie in the front row rocking out for Reba.)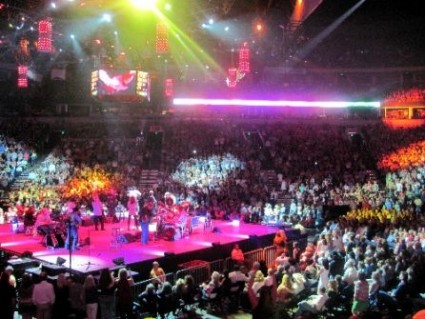 Mr. Strait's show didn't have the punch of Reba's, but having just under his age in number one hits; I don't see any reason why he'd need to run around and try to prove himself.  Nothing against the entertainers out there, because I love a huge show, and there's very few that can pull off what George Strait does. He's a different kind of performer; the kind of performer that comes off as, well, himself – and it works. I think everyone can respect that, as long as it's real. It was.
Side Note: I agree with the woman in our video, and am amazed that others didn't notice either. I was disappointed that 9-11 wasn't brought up during the show at all. I think Reba started to mention something about it, saying that 2001 was a great year for her, but then Melissa Peterman ran on stage for her skit interrupting her. (Not in a rude way, a funny way.)
In my travels over the years, I've noticed the effect of 9-11 (naturally) varies all over the country, never as strong as the East Coast. However, I never thought that Nashville, and a Country music show at that, would forget. I'm hoping some form of tribute occurred at the beginning of the show that I missed. God Bless.
George Strait – All My Ex's Live in Texas