Ep.406 – Yoko Ono @ The Orpheum Theatre – Los Angeles,CA – 10/01/10
Oct 6th, 2010 | By Poppinoff
Category: Carrie Fisher, Iggy Pop, Los Angeles, Orpheum Theater, Perry Farrell, RZA, Sean Lennon, Video Concert Reviews, Vincent Gallo, Yoko Ono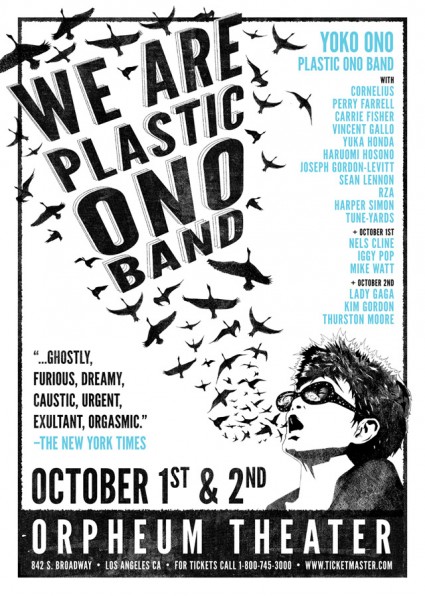 Over the years, I have heard a lot of people talk mad shit about Yoko Ono; whether it be about her breaking up The Beatles or making intolerable music. When she announced her dates at the Orpheum, I was slightly interested in seeing her, but had written them off due to Tom Petty being in town.
A month or so later, she announced a slew of special guests that would be performing with her (Perry Farrell, Iggy Pop, Sean Lennon, Lady Gaga, Mike Watt, Vincent Gallo and many more). None the less, Petty was still at the top of my list.
When October 1st rolled around, I decided to send in a last minute press request to see if I would be able to cover the show on the 2nd that featured a performance from Lady Gaga. I was unable to obtain tickets for that show, but did find tickets for the show that was taking place that night.
I decided to go for it. I had already seen Petty 9 times and was ready for a new adventure. That is exactly what I got.
The show started with a short video display that reflected on Yoko's life and the time she spent with John Lennon. Then, Yoko hit the stage. From that moment on, my smile didn't leave my face. Her music was in no way conventional and is extremely experimental. The Plastic Ono Band was incredibly skilled and was on fire.
I didn't know a single song that was performed during the first half of the set, but I constantly found myself being sucked into each and every tune. Yoko doesn't necessarily sing. She has more of a shrill scream that is somehow enchanting.
Yoko performed for about 45 min before taking a brief intermission. After the first half of the show I was left in awe, and had no clue what to expect from the second half of the show.
The band returned to the stage, but this time with a number of special guests playing tribute to the work of Yoko. This is when artists such as Carrie Fisher, The Rza, Perry Farrell and Iggy Pop took the stage. Sean Lennon introduced each of the artists and told stories about each of the songs.
Listening to Yoko scream as The Rza rapped up a storm was a sight to see, and possibly one of the craziest things I have seen this year. Yoko also did a duet with Iggy Pop that was all over the place and full of energy.
She also sang a number with Perry Farrell, in which, Perry sang as I had never heard him sing before. He turned down his voice and went to a dark, dark place.
These were just a few highlights of the second half of the set. The show ended with a gigantic sing-a-long of " Give Peace A Chance." This was a very special version of the song that featured original verses performed by Iggy Pop, Perry Ferrell, and Merrill Garbus of the Tune Yards.
Each verse was especially written for this show and was relative to events that have recently happened and are devastating to the world.
It was a bummer that I missed Tom Petty, but in retrospect I am extremely glad I caught this concert. I hope to one day be able to see Yoko again, and big ups to Lindsay at Goldenvoice. -Lorn