Ep.412 – Tom Tom Club @ The Echoplex – Echopark,CA – 10/10/10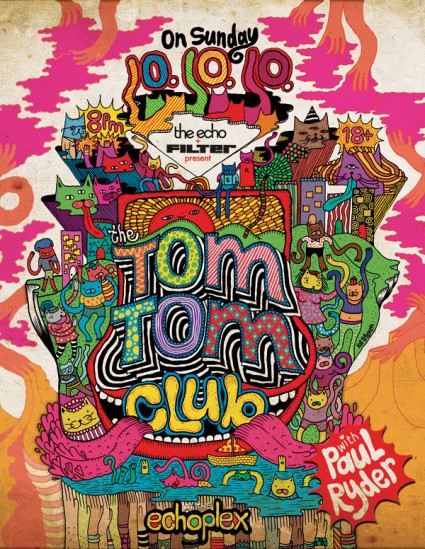 "Who is the Tom Tom Club?" Thats all I heard from everyone I pitched this show to. Come on people!  Learn your history MOFOS!  The Tom Tom Club is a group that was started by husband and wife team Chris Frantz and Tina Weymouth, which formed in the early 80s as the couple's side project from Talking Heads. The band even preformed during Talking Head sets while on tour and can be seen preforming their hit single "Genius Of Love" in the Talking Heads documentary "Stop Making Sense".
I had to work early the next morning and was debating whether to go to this show or not.  I thought long and hard about it and cam to the conclusion that this was a show I just couldn't miss!
The set started off a little bit slow for my personal liking, but after the band jammed out a few songs they caught their rhythm and really rocked it.  Before you knew it the entire Echoplex was getting down and funky.
The lead singer Tina Weymouth was full off energy and I was shocked to find out that she was 60!  She did a fantastic job interacting with the crowd and was constantly sharing story's of yesteryear.
The entire band was on it and looked as though they were having a blast on stage.  The really gave it their all to make sure a dance party went down.
My highlights from this show include, Dancing, Tina Weymouth's energy, and the band preforming Talking Head's classics "Take Me To The River" and "Psycho Killer". (For an entire Talking Head live set check out this post from Funeral Pudding)
In closing: if you are a fan of getting down and funky, the Tom Tom Club is the band for you! I hope these fine folks make their way back to LA again some time soon.  -lorn
Mariah Carey – Fantasy (Genius Of Love Sample)