Ep.413 – Carrie Underwood @ Bridgestone Arena – Nashville, TN 10-13-10
It has been complete madness around Nashville lately. Show after show after show, and there's no feasible way to fit them all in. Also, CMA Award week is rapidly approaching, so there's lot to prepare for.
I've been wanting to see Carrie's "Play On" tour, but I didn't see how it was going to happen. A couple hours before the show, a ticket fairy offered me two comp seats to the show in the client suite at Bridgestone. I was going to make it happen.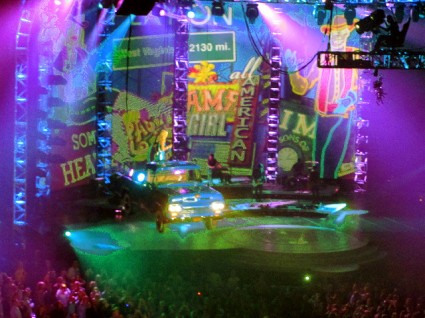 I'm a big fan of getting up in the face of all the action at a live show, but every now and then, seeing a concert in box seating is a relaxing escape. I suckered Guy into coming out with me, who despises Country music. To my surprise, he didn't complain once, and stuck it out until the very end.
The show is chuck full of changes and set alterations, and at one point I began to think…if I could be any celebrity – I'd be Carrie. Besides being a complete knockout, and always selecting the best wardrobe pieces; her voice is strong, she's likable, the songs are meaningful, and she has this angelic glow. I betcha God is a huge Carrie supporter. He's pumping her on his heavenly iPod nonstop.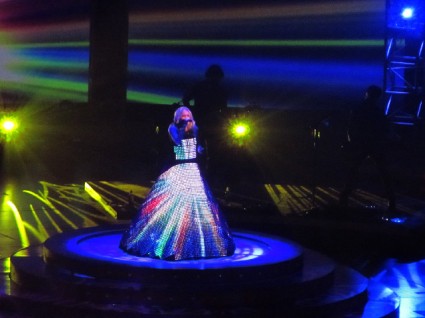 With concerts and performers as huge as Carrie, it's almost like you're looking for the flaws; or maybe they are just more noticeable. I loved how Carrie played guitar and piano in the show, however, the song where she played guitar looked a bit awkward. I heard someone else say the same thing. She was strumming so fast that it was distracting. Also, it sounded as if the song ran off the rails towards the end for a few measures. Then again, I wasn't familiar with the song…so what the hell do I know?
Also, the second song in the set list was "Quitter," and I found it anti-climatic, but those are my only complaints. Like I said, if the show wasn't a winner – I probably wouldn't even have noticed these small details or bother to mention them.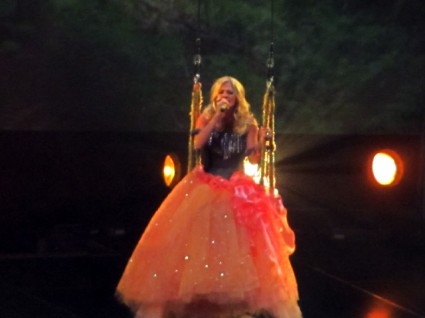 As far as eye candy goes, most of Carrie's set was elaborate video backdrops instead of structures and platforms. The stage and video were tied together with the use of matching furniture and props. It worked really well.
The opening was dope, where a round Gravitron-like video screen came down, spinning violently and projecting the words "Play On." Remember the Gravitron? – the carnival ride that spun you around so fast you were stuck to the wall. That was awesome.
So yeah, Carrie confirmed that she is still the bomb dot org.
We missed most of Billy Currington, but from what I heard; the crowd really loved singing his songs. The day after the concert, I covered his #1 party for work, and decided to throw the usual "favorite concert" question into our interview for YTC purposes.