Ep.416 – Mumford & Sons @ The Palladium – Hollywood, CA – 10/18/10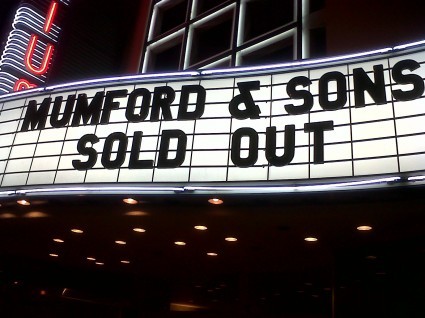 Once again, I was off to see a band I knew nothing about.  Shocking, I know!  I had heard mad buzz about these guys and their hit single "Little Lion Man," and I was under the impression these guys were one of those bummed-out Indie Emo bands the kids are into these days.  Boy-oh-boy, was I wrong!
The show started off with the band playing "old-timey" non-electric instruments.  One would think the lack of electric instruments would hinder a band's ability to rock out. Not the case.  These guys managed to get the entire Palladium rocking out in a frenzy.
As the show went on, the band did introduce electronic instruments into the performance.  Honestly, this didn't make much of a difference in the level of rock these guys were putting out.  They were at their highest energy throughout.
The coolest part of this show, and one of the coolest things I have seen at a concert this year, took place during the encore.   The bands lead singer (Marcus Mumford) approached the microphone and explained to the crowd they "sometimes like to leave behind technology and amplifiers and things" and they were going to perform a song called "Sister."  He went on to say the crowd had to be very quite, as they were not going to be using amps for this song.  It took a few minutes, but the band waited patiently for the Palladium to come to a silence.  The entire place was still then… some dude yelled out " FREEBIRD!"  The crowd chuckled, then once again, simmered down and the band began to play.
I am sure that not a single person that was in the room during this performance will ever forget it. I was in awe and found myself covered in goosebumps. The band followed up with a song called, "The Cave," and well, the crowd lost it! Everyone was clapping, dancing and having a blast.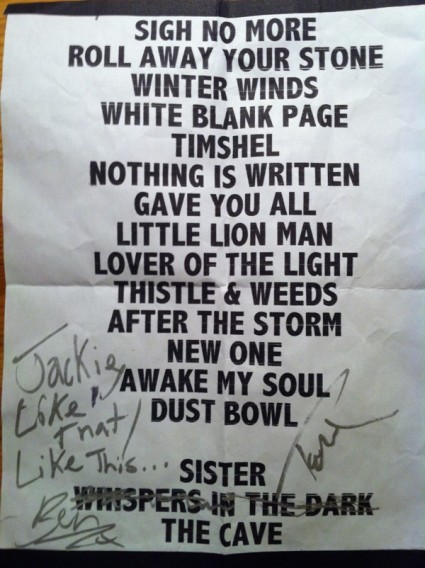 Final thoughts: Great crowd, great band, great show and amazing night! See Mumford & Sons if you get the chance and listen to as much of their music as possible. -lorn
On a side note: Justin Long rolled up last min, looking to scalp a ticket.  Luckily, he found a scalper that cut him a deal.  I spoke with the scalper after the show and he said he knew that was the Mac guy, and was shocked he didn't have enough money to pay face value for the ticket.  Way to hustle Justin!